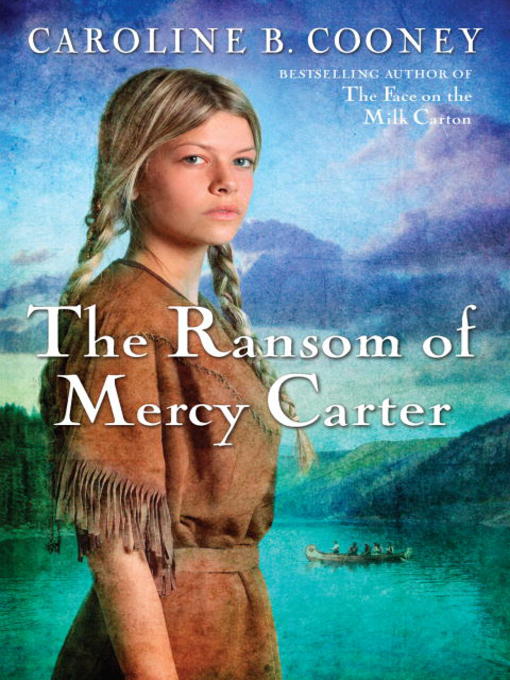 The ransom of Mercy Carter
Format:

Kindle Book

2011

2011

Adobe EPUB ebook

OverDrive Read

Availability:

Available from OverDrive

1 of 1 copy
Summary
Deerfield, Massachusetts is one of the most remote, and therefore dangerous, settlements in the English colonies. In 1704 an Indian tribe attacks the town, and Mercy Carter becomes separated from the rest of her family, some of whom do not survive. Mercy and hundreds of other settlers are herded together and ordered by the Indians to start walking. The grueling journey -- three hundred miles north to a Kahnawake Indian village in Canada -- takes more than 40 days. At first Mercy's only hope is that the English government in Boston will send ransom for her and the other white settlers. But days turn into months and Mercy, who has become a Kahnawake daughter, thinks less and less of ransom, of Deerfield, and even of her "English" family. She slowly discovers that the "savages" have traditions and family life that soon become her own, and Mercy begins to wonder: If ransom comes, will she take it?

Published Reviews
Booklist Review:
"Gr. 6-10. In 1704, the height of the French and Indian War, Mohawk Indians attack 11-year-old Mercy Carter's home in Deerfield, Massachusetts. Forcibly led by their attackers, Mercy and the other surviving settlers set off on a perilous 300-mile trip to Canada, where the "English" will be ransomed, sold, or adopted by French and Indian families. On arrival, Mercy is sent to live with a Mohawk family, and her new life begins as an adopted Indian daughter. She ultimately becomes so assimilated that she chooses not to return to Deerfield when ransom is finally offered. Filled with cultural and historical detail, the third-person narrative reflects the settlers' fearful and prejudiced views of their captors, which seem historically accurate but may offend modern readers. Repeated references to scalping are also somewhat sensationalized. But, as Mercy wavers between her birth culture and her adopted one, she raises excellent questions about notions of "savagery" that will make this vivid, dramatic novel an excellent discussion book. An author's note describes the actual events on which the story is based. --Gillian Engberg"
From Booklist, Copyright (c) American Library Association. Used with permission.
Publisher's Weekly Review:
"Based on actual events, this latest offering from the accomplished Cooney (The Face on the Milk Carton; Driver's Ed) is a gripping and thought-provoking account of the 1704 Indian raid on the English settlement of Deerfield, Mass. After their village is burned and many of its residents killed, Mercy and more than 100 other settlers are taken prisoner by the Kahnawake Mohawk, who have been converted to Catholicism by the French. Some of the novel's most riveting chapters describe the difficult winter trek that takes them 300 miles north to Canada, where Mercy settles into life in a traditional Indian village near Montreal. Uncertain whether she will be adopted by the Mohawk who captured her or whether the English will pay the ransom that would allow her to return to Massachusetts, Mercy struggles to balance loyalty to her own family and traditions with a growing appreciation for the Kahnawake way of life. Just how much her perspective broadens can be measured by the fact that, in addition to adopting many Indian ways, Mercy can find something sacred and comforting in the Catholic mass a rite she was raised to believe led straight to eternal damnation. Portrayed mostly as rigid, angry and dogmatic, the Puritans contrast poorly with the generally kind and commonsensical Indians, and Mercy's final choice is thus compelling. Though at times this account reads like the MTV version of the events (e.g., glancing over such important events as the death of Mercy's Indian father), the immediacy of Mercy's dilemma comes through despite its historical distance. Cooney's trademark staccato delivery keeps the pages turning. Ages 12-up. (Apr.) (c) Copyright PWxyz, LLC. All rights reserved"
(c) Copyright PWxyz, LLC. All rights reserved
Additional Information