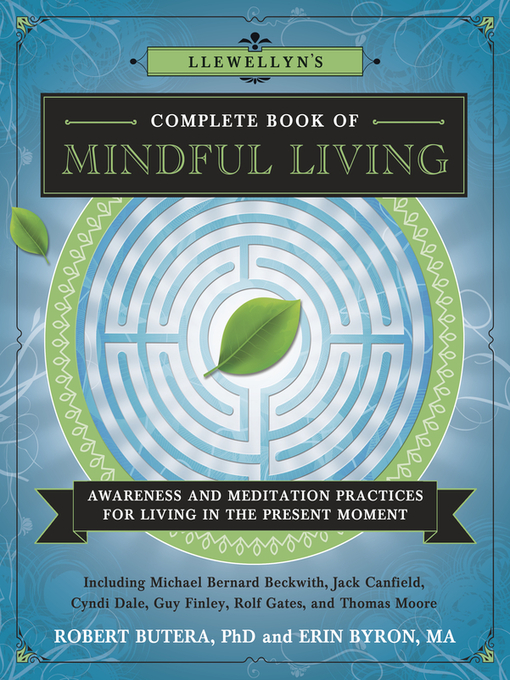 Llewellyn's complete book of mindful living awareness and meditation practices for living in the present moment
Format:

Kindle Book

2016

2016

Adobe EPUB ebook

OverDrive Read

Availability:

Unavailable

0 of 1 copy
1 person on waitlist
Summary
"This is a comprehensive gathering of mindful living discussion and practices, broken into five sections: For Basic Understanding and Practices, For Your Health, For Love of Your Body, For Reaching Potential, and For Subtle Energy and Spirit. Within each part, various authors write on their specific topic of interest. Both Llewellyn and non-Llewellyn authors are included. Larger chapters and smaller guest spot articles make up the book. Articles add in variety of discussion and additional ways to apply certain topics."--Provided by publisher.

Contents
Introduction / Robert Butera & Erin Byron
For basic understanding and practice. The mind in mindfulness meditation / Erin Byron - Meditation: the ultimate wireless connection / Michael Bernard Beckwith - Starting out with breathwork, awareness, and concentration / William L. Mikulas - Deep breathing / Robert Butera - Paying attention on purpose / Amy B. Scher - Mindfulness and insight for problem solving / Keith Park - Identifying stressful behaviors / Robert Butera
For your health. How our pets help us live in the moment / Danielle MacKinnon - Mindfulness for sleep and physical relaxation / Robert Butera & Erin Byron - Finding wellness through mindful earth connection / Angela Wix - Indirect and spiritual forms of grounding / Alexandra Chauran - The connection between mindful eating and sustainable living / Rachel Avalon - Your path to mindful eating / Melissa Grabau - Mindful nonattachment to cravings and urges / Sarah Bowen - Mindfulness and illness, chronic conditions, and pain relief / Erin Byron - A mindful approach to the end of life / Jeanne Van Bronkhorst - Mourning mindfully: working through times of transition / Servet Hasan - Dreams in times of grief / Jeanne Van Bronkhorst
For the love of your body. Mindful movement and creating a wellness practice / Rolf Gates - Body image and cultivating self-love / Melanie Klein - Mindful sex / Mark A. Michaels & Patricia Johnson
For reaching potential. The mindful path to acceptance and forgiveness / Ana Holub - Breaking dependency to live an authentic life / Guy Finley - Mindful manifesting: finding life purpose and fulfillment / Servet Hasan - Accessing your core genius for abundance and success / Jack Canfield & Deborah Sandella - Clearing and creating space for inner peace / Tess Whitehurst - World healing and mindful society / Alexandra Chauran - Peace in our hearts, peace in our world: a practice / Shakta Khalsa
For subtle energy and spirit. Meditation from the deep soul / Thomas Moore - Enhancing your energetic vibration / Cyndi Dale - Awareness of spirit / Sherrie Dillard
Conclusion / Robert Butera & Erin Byron.
Additional Information