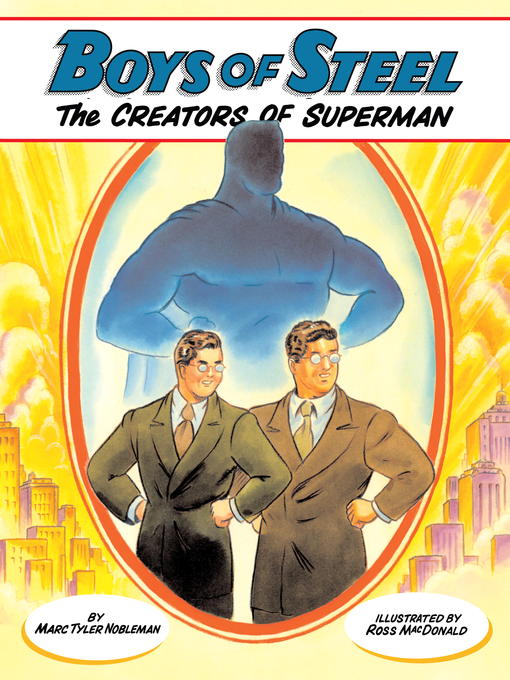 Boys of steel the creators of Superman
Format:

Kindle Book

2013

2013

Adobe EPUB ebook

OverDrive Read

Availability:

Available from OverDrive

1 of 1 copy
Summary
Jerry Siegel & Joe Shuster, two misfit teens in Cleveland, were more like Clark Kent than Superman. Both boys escaped into the worlds of science fiction and pulp magazine tales. In 1934, they created the superhero, but it was four years before they convinced a publisher to take a chance on their Man of Steel in a new format--the comic book.

Published Reviews
Booklist Review:
"*Starred Review* Though rich in thrilling big breaks and cultural touchstones, comic-book history appears most often in books for adults, such as Michael Chabon's Amazing Adventures of Kavalier & Clay (2000), inspired by the story of Superman's creators. This book brings the young men behind the Man of Steel to a picture-book audience. Along with a compressed account of the partnership between nerdy high-school outcasts Joe Shuster and Jerry Siegel, Nobleman includes insights about superheroes' cultural significance and the chord struck by Superman a hero who would always come home even as World War II loomed on the horizon. It's hard to imagine a better sidekick for the text than MacDonald's illustrations, which capture the look of 1930s comics with their sepia-toned, stylized imagery, although some children may wish for more distinctions between Shuster and Siegel's bespectacled faces. The narrative ends on an upbeat note, but the detailed, candid afterword clues youngsters into the creators' bitter compensation battle with DC Comics. A bibliography and assurances that all dialogue was excerpted from interviews puts factual muscle on the narrative. Any kid who has scribbled caped crusaders in the margins of homework will find Shuster and Siegel's accomplishment of interest; this robust treatment does their story justice.--Mattson, Jennifer Copyright 2008 Booklist"
From Booklist, Copyright (c) American Library Association. Used with permission.
Publisher's Weekly Review:
"Starred Review. Catering to comics junkies, this vibrant and well-researched picture book biography introduces the youthful inventors of Superman, who this year celebrates his 70th anniversary. Writer Jerry Siegel and illustrator Joe Shuster are mild-mannered everymen whose reflective glasses conceal their eyes--and their potential. In a crowded high school hallway, Jerry wishes he could be with his friends, and a turn of the page reveals Tarzan, Flash Gordon and Buck Rogers. Joe, lousy at sports and mousy around girls, draws sci-fi heroes with a passion. In 1934, when both are 20, Jerry dreams up the Superman concept and Joe draws prototypes labeled S for 'super.' And for 'Siegel' and 'Shuster.' In June 1938, their creation launches in Action Comics. Nobleman details this achievement with a zest amplified by MacDonald's (Another Perfect Day) punchy illustrations, done in a classic litho palette of brassy gold, antique blue and fireplug red. MacDonald's Depression-era vignettes picture Siegel pondering his superhero's powers and the friends casting a single, caped shadow. A cautionary afterword chronicles their protracted financial struggles with DC Comics--when Siegel and Shuster sold their first Superman story, they also sold all rights to the character, for $130. Ages 10-up. (July) (c) Copyright PWxyz, LLC. All rights reserved All rights reserved."
(c) Copyright PWxyz, LLC. All rights reserved
Additional Information