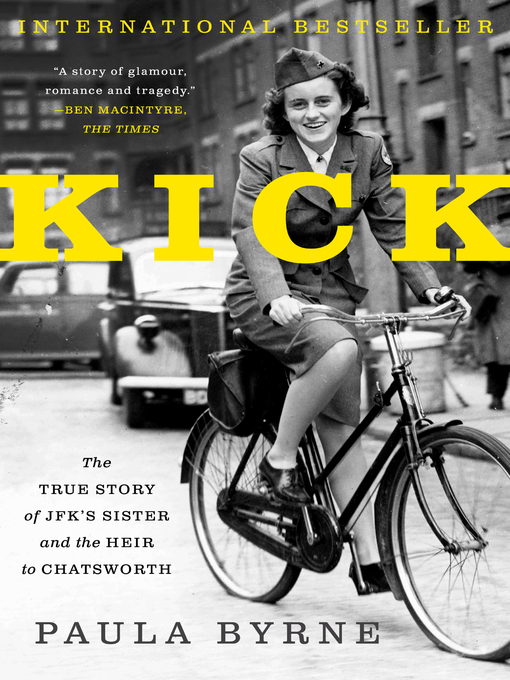 Kick the true story of JFK's sister and the heir to Chatsworth
Format:

Kindle Book

2016

2016

Adobe EPUB ebook

OverDrive Read

Availability:

Available from OverDrive

2 of 2 copies
Summary
"Filled with a wealth of revealing new material and insight, the biography of the vivacious, unconventional--and nearly forgotten--young Kennedy sister who charmed American society and the English aristocracy and would break with her family for love."--Provided by publisher.

Contents
Prologue : kicking the surf
Rose and Joe
A beautiful and enchanting child
Forbidden fruit
Hyannis Port
Bronxville
Convent girl
Muckers and trouble
- Mademoiselle Pourquoi
Gstaad and Italy
Travels with my mother : Russia and England
Politics and Europe revisited
The ambassador
At the Court of St James's
'I Get a Kick Out of You'
The debutante
Lords a-leaping
'A merry girl'
Billy
The Riviera
Peace for our time
Chatsworth
St Moritz and Rome
The gathering storm
The last hurrah
'This country is at war with Germany'
The personality kids
Operation Ariel
The fourth hostage
Billy and Sally
Kick the reporter
Lobotomy
Scandal
'Did you happen to see...'
Red Cross worker of World War II
Coffee and doughnuts
Sister Kick
Girl on a bicycle
Parties and prayers
Rosemary tonks
Agnes and Hartie
Telegrams and anger
'I love you more than anything in the world'
The Marchioness of Hartington
Operation Aphrodite
Billy the hero
'Life is so cruel"
The widow Hartington
Politics or passion?
Joy she gave joy she has found.
Published Reviews
Publisher's Weekly Review:
"Kathleen "Kick" Kennedy (1920-1948) was as intelligent, vivacious, and attractive as her older and better known brother, John. Unfortunately, this account from British biographer Byrne (Belle: The Slave Daughter and the Lord Chief Justice) is neither gossipy enough to be a satisfying celebrity profile nor contextual enough to work as an illuminating woman-of-the-times story. In 1938, at age 18, Kennedy became a celebrity when her father was named ambassador to Great Britain and moved the family to London. That year, she met William Cavendish, Marquess of Hartington, and they fell in love. Religious differences and the outbreak of WWII kept them apart for a while, though Byrne glosses over the tumultuous European events of 1938-1939. Back in the U.S., Kennedy worked as a reporter for the Washington Times-Herald until she signed on with the Red Cross in 1943 during WWII and went back to England. Kennedy and Hartington married in 1944; she became a marchioness, but her fairy tale life didn't have a happy ending. Byrne's story lacks the texture necessary to make this an absorbing read, repeatedly falling into the trap of telling rather than showing. Moreover, she hasn't convincingly demonstrated why Kennedy is worthy of a full-length biography. Illus. (July) © Copyright PWxyz, LLC. All rights reserved."
(c) Copyright PWxyz, LLC. All rights reserved
Additional Information