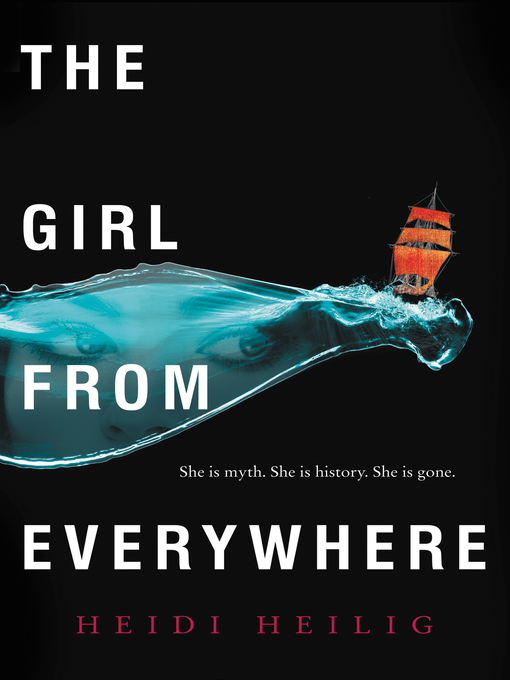 The girl from everywhere
Format:

Kindle Book

2016

2016

Adobe EPUB ebook

OverDrive Read

Availability:

Available from OverDrive

2 of 2 copies
Summary
"Heidi Heilig's debut teen fantasy sweeps from modern-day New York City, to nineteenth-century Hawaii, to places of myth and legend. Sixteen-year-old Nix has sailed across the globe and through centuries aboard her time-traveling father's ship. But when he gambles with her very existence, it all may be about to end. The Girl from Everywhere, the first of two books, blends fantasy, history, and a modern sensibility. Its witty, fast-paced dialogue, breathless adventure, multicultural cast, and enchanting romance will dazzle readers of Sabaa Tahir, Rae Carson, and Rachel Hartman. Nix's life began in Honolulu in 1868. Since then she has traveled to mythic Scandinavia, a land from the tales of One Thousand and One Nights, modern-day New York City, and many more places both real and imagined. As long as he has a map, Nix's father can sail his ship, The Temptation, to any place, any time. But now he's uncovered the one map he's always sought--1868 Honolulu, before Nix's mother died in childbirth. Nix's life--her entire existence--is at stake. No one knows what will happen if her father changes the past. It could erase Nix's future, her dreams, her adventures. her connection with the charming Persian thief, Kash, who's been part of their crew for two years. If Nix helps her father reunite with the love of his life, it will cost her her own"--

Published Reviews
Booklist Review:
"Hawaiian-born 16-year-old Nix Song has spent most of her life traveling though time, navigating on her father's schooner, the Temptation. Her father, Slate, is a haunted man, addicted to opium and heartsick at having lost Nix's long-dead mother, Lin. He is anxious to return to 1860s Honolulu so he can reunite with and hopefully save Lin. To do this, he needs an accurate map of the era for 16 years, Nix and Slate have jumped through different centuries, acquiring maps that have led them astray. They have also gathered a wonderfully diverse ship's crew that now includes Nix's multilingual, roguish, Persian love interest, Kashmir. Finally they find a proper map and have a chance to actually rewrite history, but Nix, though longing for her mother's presence in her life, is understandably fearful of what this will mean for her existence. With time travel, fantasy, Hawaiian history, mythology, cute animals, and a feisty protagonist, romance and fantasy readers will find much to enjoy in this quick read, which features a conclusion suggesting a sequel.--Carton, Debbie Copyright 2016 Booklist"
From Booklist, Copyright (c) American Library Association. Used with permission.
Publisher's Weekly Review:
"Debut author Heilig sets this swashbuckling time-travel adventure primarily in 19th-century Hawaii, when the islands were colonized but still had a king. Sixteen-year-old Nix Song is a resourceful and multilayered heroine who navigates a tall ship across enchanted maps that lead to particular moments and places in time-some real and some mythological, depending on the map. Her father, Slate, captains the Temptation through time, in hopes of returning to the days before Nix's mother died giving birth to Nix in 1868 Honolulu; when a map from 1981 fails them, they instead land in modern-day New York City. Nix lives under the shadow of Slate's loss, and their relationship suffers for it-not to mention that Nix's life may be at stake if Slate succeeds in saving her mother. Heilig's writing is richly immersive, and a mature exploration of complicated love, both familial and romantic, underlies the story. A riveting and far-reaching fantasy that crosses seamlessly across the centuries, posing questions about fate, loyalty, and belonging. Ages 13-up. Agent: Molly Ker Hawn, Bent Agency. (Feb.) © Copyright PWxyz, LLC. All rights reserved."
Additional Information