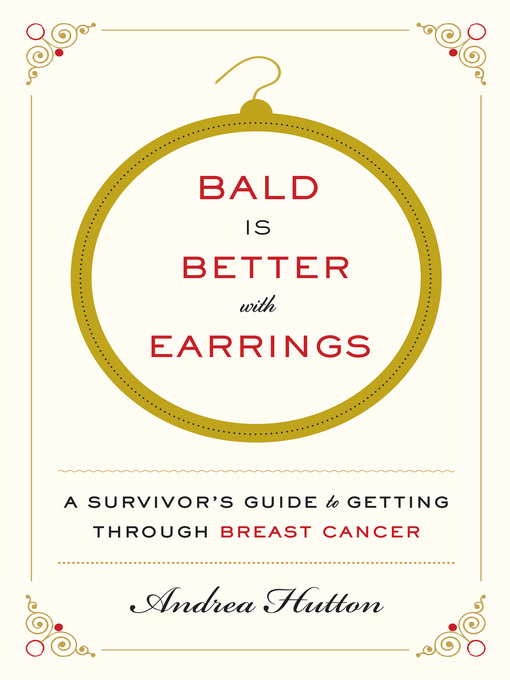 Bald Is better with earrings a survivor's guide to getting through breast cancer
Format:

Kindle Book

2015

2015

Adobe EPUB ebook

OverDrive Read

Availability:

Unavailable

0 of 1 copy
Summary
For the one in eight women who will be diagnosed with breast cancer this year, a warm, practical, relatable handbook that dispels the terror and takes you step-by-step through the process, from diagnosis to post-treatment.When Andrea Hutton was diagnosed with breast cancer, she wanted to know everything. She read books voraciously, devoured articles, surfed websites, and talked to everyone she knew. But nothing she found prepared her for what the surgery, chemotherapy, and radiation would feel like. Were there tricks for easing pain and discomfort? What was "fatigue," and how would it affect her? When people gave her a hug, could they tell she was wearing a prosthesis? What Hutton wanted was something she could not find: a clear how-to guide for the Cancer Girl she had become.Bald Is Better with Earrings is Hutton's answer, a straightforward handbook, leavened with humor and inspiration, to shepherd women diagnosed with breast cancer through the experience. Warm and down-to-earth, Hutton explains what to expect and walks the reader through the intensely emotional process of testing, telling loved ones, surgery, chemo, losing hair and shaving one's head, being bald, and radiation treatments.From tricks for treating skin during radiation and keeping track of meds to tips for tying headscarves and preventing lymphedema,

Published Reviews
Booklist Review:
"How-to-survive breast-cancer handbooks are proliferating as many women (and a few men) are tested, retested, diagnosed, and submitted to cancer surgery, which can sometimes mean losing one or both breasts. Follow-ups can vary from nothing to aggressive courses of chemotherapy and radiation, and survivors' guidebooks like Hutton's frequently claim to dissipate terror and prepare the newly diagnosed for what will follow. But nothing can. Still, Hutton's transformation into Cancer Girl motivated her to start a blog, then, recognizing that her intense research didn't prepare her for her cancer journey, expand it into this straightforward, often humorous, no-nonsense, step-by-step, tip-filled text. No single guide can be all-inclusive since cancer cases vary widely, but Hutton's Top Tips for choosing a surgeon, understanding and handling radiation and chemo, dealing with your new self-image and scars, approaching postsurgery sex, managing side effects from treatments and accompanying medications, and getting on with your life will help many.--Scott, Whitney Copyright 2015 Booklist"
From Booklist, Copyright (c) American Library Association. Used with permission.
Publisher's Weekly Review:
"Breast cancer survivor Hutton offers a wealth of insider knowledge on exactly what to expect of the "emotional and physical roller coaster" involved in battling the disease. Hutton offers both serious and lighthearted suggestions for getting through early testing, advising readers to "never go to a mammogram alone" and rating the flavors of pre-PET/CT scan barium milk ("mocha is the best"). She provides tips for choosing the appropriate surgery and information on breast prostheses, noting wryly that the proprietors of stores selling these tend to be well-endowed women, evidence of a possible "conspiracy." A chapter on chemotherapy covers preliminaries, aftercare, and side effects before delving into the big conundrum: "how and when to shave your head." Hutton explains basic care for synthetic and real-hair wigs and compassionately addresses potential feelings of a loss of femininity. She illuminates some less-discussed treatment side effects like "steroid rage," fingernail breakage, loss of eyelashes, and radiation fatigue. On the interpersonal level, Hutton discusses best practices for telling your family your diagnosis and categorizes different reactions loved ones tend to have, while giving permission to "lash out appropriately." Finally, Hutton reflects on the ongoing stress of continued screening, noting, "Once you've crossed the street, you're stuck on this side forever." While there is no universal cancer experience, Hutton covers the most likely scenarios in detailed fashion with grace, empathy, and humor. (July) © Copyright PWxyz, LLC. All rights reserved."
(c) Copyright PWxyz, LLC. All rights reserved
Additional Information