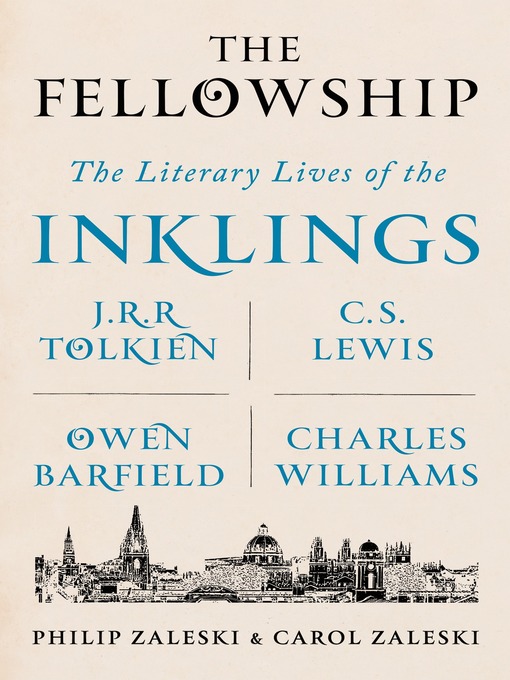 The fellowship the literary lives of the Inklings: J.R.R. Tolkien, C.S. Lewis, Owen Barfield, Charles Williams
Format:

Kindle Book

2015

2015

Adobe EPUB ebook

OverDrive Read

Availability:

Available from OverDrive

1 of 1 copy
Summary
"A stirring group biography of the Inklings, the Oxford writing club featuring J.R.R. Tolkien and C. S. Lewis"--Provided by publisher.

Published Reviews
Booklist Review:
"*Starred Review* The iconoclastic Bloomsbury Group captivated intellectuals, but the Zaleskis hail as a more influential ensemble the improbable conclave of Oxford fantasists who called themselves the Inklings. This talented group waxed and waned between the 1930s and the '50s, but four central members J. R. R. Tolkien, C. S. Lewis, Charles Williams, and Owen Barfield define the focus of this revealing chronicle. Readers see how the distinct life trajectories of these four punctuated by family disruptions, war, and personal travail primed them for the exceptionally fruitful fellowship that convened weekly in Lewis' sitting rooms and in a nearby pub, where they shared literary works in progress and challenged each other to think more deeply about their writing, their friendship, and their faith. The Zaleskis expose tensions within the group but highlight the members' shared commitment to a vibrantly Christian creativity so resistant to the sterility of modernism that it incubated soul-stirring fantasy. Out of the beer, the smoke, and the talk of the Inklings' meetings emerged works that deeply moved millions of readers works that included Tolkien's Lord of the Rings trilogy, Lewis' Chronicles of Narnia, Williams' Place of the Lion, and Barfield's Poetic Diction. A compelling collective portrait of an exceptionally potent gathering of literary creativity.--Christensen, Bryce Copyright 2015 Booklist"
From Booklist, Copyright (c) American Library Association. Used with permission.
Publisher's Weekly Review:
"J.R.R. Tolkien wrote that the name "Inklings" suggested "people with vague or half-formed intimations and ideas plus those who dabble in ink." Yet it's difficult to overstate the influence of the two most famous Inklings, Tolkien and C.S. Lewis, on varied fields including Christian apologetics and fantasy writing. The Zaleskis trace the history of this informal club of Oxford-educated, Christian intellectuals, which first coalesced in the early 1930s, by focusing on four of the most prominent Inklings: Tolkien, Lewis, mystic Charles Williams, and philosopher Owen Barfield. As scholarship, the book is immensely successful, describing its protagonists' strengths and shortcomings with insight and facility. Understandably, the Zaleskis spend more time on Lewis and Tolkien than on their fellows (mainly due to the amount of material available), but their portraits of Williams, "a swirling mass of contradictions," and Barfield, dedicated "to unraveling the secret life of words," are no less nuanced. Particularly insightful is the observation that the Inklings' scholarly preoccupations affected their public writings and personal lives as much as the reverse. Ultimately, this meticulous group biography allow readers to decide whether the Inklings were, as novelist John Wain suggested, a countercultural "circle of instigators, almost of incendiaries," or, as they themselves insisted, merely a pipe-smoking, ale-drinking, loud-laughing group of friends. (June) © Copyright PWxyz, LLC. All rights reserved."
(c) Copyright PWxyz, LLC. All rights reserved
Additional Information
Subjects
Tolkien, J. R. R. (John Ronald Reuel), 1892-1973
Lewis, C. S. (Clive Staples), 1898-1963
Barfield, Owen, 1898-1997
Williams, Charles, 1886-1945
Inklings (Group of writers)
Literature and society England History 20th century
Biography
Biography & Autobiography
Literary Criticism
Religion & Spirituality
Nonfiction
Oxford (England) Intellectual life 20th century Biography.
Electronic books.
Biographies.
1892-1973.
1898-1963.
1898-1997.
1886-1945.
20th century.
20th century

Publisher

New York :Farrar, Straus and Giroux2015




2015



Edition
First edition.
Contributors
Zaleski, Carol.
OverDrive, Inc.

Language

English



System Details

Mode of access: World Wide Web.




Format: Adobe EPUB eBook




Format: Kindle Book




Format: OverDrive Read




Requires Adobe Digital Editions or Amazon Kindle



Description

1 online resource



Bibliography Notes

Includes bibliographical references (pages 587-610) and index.



ISBN
9780374713799
9780374713799

Other
Classic View