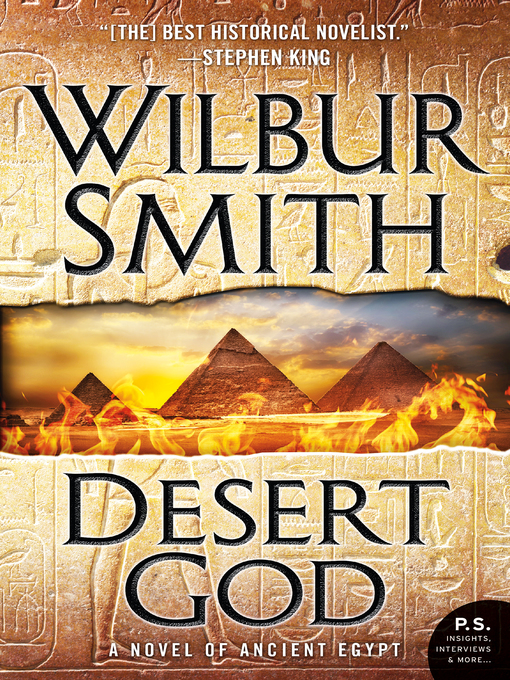 Desert God a novel of ancient Egypt
Format:

Kindle Book

2014

2014

Adobe EPUB ebook

OverDrive Read

Availability:

Unavailable

0 of 1 copy
Summary
The #1 International BestsellerGame of ThronesDesert God, he is at the peak of his powers, transporting readers to an extraordinary time and place. This is a novel of supreme adventure, blazing action, heart-racing romance and a sense of history so real that you will feel the dunes moving beneath you and the Nile lapping at your feet.

Published Reviews
Booklist Review:
"*Starred Review* Smith, in full force and robust form, returns to ancient Egypt, where, in the spectacularly successful River God (1994), he explored in luxurious detail a society about which he could demonstrate scholarly knowledge and by which he could display his taste and talent for dramatic storytelling. His sequel to that splendidly rich novel once again brings readers into the life of Taita, slave and advisor of Pharaoh Tamose, who, in this installment of his story, perceives the necessity (and the need to convince Pharaoh of the correctness of his convictions) of forming an alliance with Crete to defeat the dreaded Hyksos, who have driven the Egyptians from their native lands. Once Pharaoh is behind him, Taita leads an expedition with a complicated diplomatic purpose: to turn the Hyskos against the Cretans, a situation that can only benefit the Egyptians. Smith presents a wide canvas on which to execute what he does best, marshaling a wealth of details about geography, military materials, sociology, politics, and religion for a narrative he serves up in a style the reader will appreciate as both careful and easy. As always, Smith is a delight to read. High-Demand Backstory: A wide distribution of ARCs will match a national ad campaign in bringing the reading world's attention to Smith's latest great read.--Hooper, Brad Copyright 2010 Booklist"
From Booklist, Copyright (c) American Library Association. Used with permission.
Publisher's Weekly Review:
"Popular historical novelist Smith spins his latest yarn about ancient Egypt (after The Quest ), once again focusing on the eunuch Taita--a slave turned close advisor and confidante to Pharaoh Tamose. Smith is a masterful storyteller, carefully blending intrigue, action, and suspense on a solid foundation of history. In this case, he depicts Egypt in the 16th century B.C.E., when the country was struggling to repel the invading Hyksos people. Taita convinces the pharaoh to seek an alliance with Sumeria and Crete, but before this can be accomplished, the Egyptians must break the secret alliance between the Hyksos and the Cretans. To do this, Taita takes the two royal princesses, Tehuti and Bekatha, to Crete's ruler, the Supreme Minos, and offers them in marriage. The journey is marked by bandit attacks, kidnapping, desert pursuit, betrayal, and vicious fighting. Moreover, Taita, who loves the princesses as if they were his own daughters, becomes concerned that their arranged wedding to the Cretan king will end in disaster after Tehuti reveals a dangerous secret to him. Add pirates, chariot racing, and large-scale natural disasters, and the result is a graphic, gory, and exciting tale of ancient conflict and intrigue. Agent: Kevin Conroy Scott, Tibor Jones. (Oct.) (c) Copyright PWxyz, LLC. All rights reserved."
(c) Copyright PWxyz, LLC. All rights reserved
Additional Information