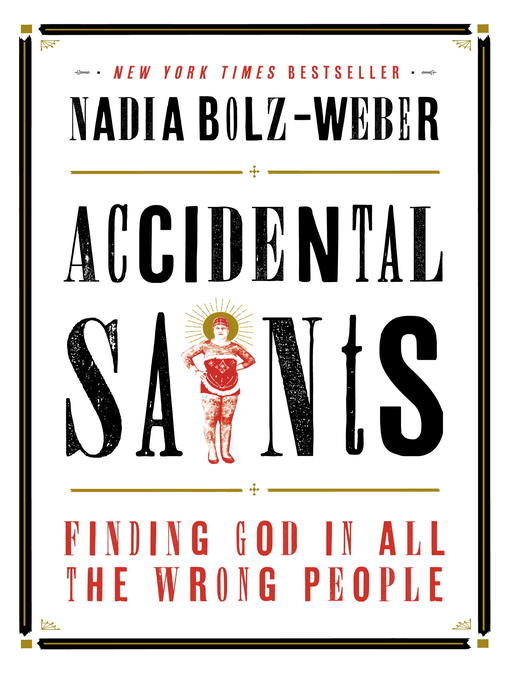 Accidental saints finding God in all the wrong people
Format:

Kindle Book

2015

2015

Adobe EPUB ebook

OverDrive Read

Availability:

Unavailable

0 of 2 copies
Summary
"Bolz-Weber invites readers into a surprising encounter with what she calls 'a religious but not-so-spiritual life.' Tattooed, angry, and profane, this former standup comic turned pastor stubbornly, sometimes hilariously, resists the God she feels called to serve. But God keeps showing up in the least likely of people--a church-loving agnostic, a drag queen, a felonious Bishop and a gun-toting member of the NRA. As she lives and worships alongside these 'accidental saints,' Nadia is swept into firsthand encounters with grace--a gift that feels to her less like being wrapped in a warm blanket and more like being hit with a blunt instrument"--Dust jacket flap.

Contents
Saint cookies
Absolution for assholes
My lowest for His highest
What spit in the Superdome
You are not "the blessing"
A thief in the night
Mary, Mother of Our Lord
The slaughter of the Holy Innocents of Sandy Hook Elementary
Frances
Panic attack in Jericho
Parlors
The lame
Dirty feet
The dogs of Good Friday
Vignettes from an Easter Vigil
Charcoal fires and jail cells
Judas will now take yout confession
The best shitty feeling in the world
Blessed are they.
Published Reviews
Booklist Review:
"Bolz-Weber follows up her 2014 Pastrix with a collection of stories from her current pastoral life as the leader of the Lutheran congregation House for All Sinners and Saints. Although her own experiences as a rebel, addict, and current-day badass are still essential to the stories here, the focus is more specifically on how she finds her own burgeoning understanding and communication of Christian doctrine in everyday situations (presiding at a friend's deathbed, traveling abroad with a tour group of strangers). Warm, witty, and unafraid to expose her own faults, Bolz-Weber is also well educated and respectful of both her congregants and her readers. Many of the chapters here are tied to specific liturgical events and seasons (Lent, Easter), while others focus on rites (absolution, prayers for the departed). Never stuffy or doctrinaire, this is a book for any reader with curiosity about Christianity as a lived practice as well as feminists who are interested in a model who functions in a male-dominated context.--Goldsmith, Francisca Copyright 2015 Booklist"
From Booklist, Copyright (c) American Library Association. Used with permission.
Publisher's Weekly Review:
"Bolz-Weber, pastor of the House for All Saints and Sinners in Denver, Colo., presents a compulsively readable account of her meetings with many remarkable sinners who still retain the glimmers of God's grace. Bolz-Weber isn't your typical pastor; she is an ordained minister in the Evangelical Lutheran Church of America, covered in tattoos, often profane, and convinced that God can be met in the darkest places, just as readily as in any church. Stepping through the liturgical year, reflecting on the deepest meanings of Christ's presence in these rites, the author deftly explains why God's love should be the heart of every sacred (and secular) experience. There is great healing to be found in this kind of preaching. Some readers may blanch at her often rough language, but her love for God and for humankind shines through on every page. (Sept.) © Copyright PWxyz, LLC. All rights reserved."
(c) Copyright PWxyz, LLC. All rights reserved
Additional Information