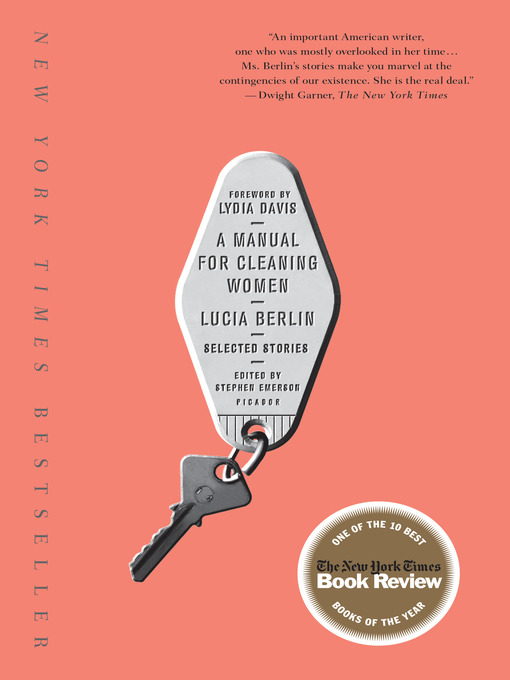 A manual for cleaning women selected stories
Format:

Kindle Book

2015

2015

Adobe EPUB ebook

OverDrive Read

Availability:

Unavailable

0 of 2 copies
2 people on waitlist
Summary
"Stories from a lost American classic "in the same arena as Alice Munro" (Lydia Davis) "In the field of short fiction, Lucia Berlin is one of America's best kept secrets. That's it. Flat out. No mitigating conditions." --Paul Metcalf A Manual for Cleaning Women compiles the best work of the legendary short-story writer Lucia Berlin. With her trademark blend of humor and melancholy, Berlin crafts miracles from the everyday--uncovering moments of grace in the cafeterias and Laundromats of the American Southwest, in the homes of the Northern California upper classes, and from the perspective of a cleaning woman alone in a hotel dining room in Mexico City. The women of Berlin's stories are lost, but they are also strong, clever, and extraordinarily real. They are hitchhikers, hard workers, bad Christians. With the wit of Lorrie Moore and the grit of Raymond Carver, they navigate a world of jockeys, doctors, and switchboard operators. They laugh, they mourn, they drink. Berlin, a highly influential writer despite having published little in her lifetime, conjures these women from California, Mexico, and beyond. Lovers of the short story will not want to miss this remarkable collection from a master of the form"--

Contents
Angel's laundromat
Dr. H. A. Moynihan
Stars and saints
A manual for cleaning women
My jockey
El Tim
Point of view
Her first detox
Phantom pain
Tiger bites
Emergency room notebook, 1977
Temps perdu
Carpe diem
Toda luna, todo anäo
Good and bad - Melina
Unmanageable
Electric car, El Paso
Sex appeal
Teenage punk
Step
Strays
Grief
Bluebonnets
La vie en rose
Macadam
Dear Conchi
Fool to cry
Mourning
Panteoân de Dolores
So long
A love affair
Let me see you smile
Mama
Carmen
Silence
Mijito
502
Here it is Saturday
B.F. and me
Wait a minute
Homing.
Published Reviews
Booklist Review:
"*Starred Review* Begin reading a Berlin short story and you know immediately that you are in the presence of a unique and searing literary force. Yet Berlin (1936-2004), published in the 1980s and 1990s by small presses, has heretofore been passionately appreciated by only a small, select audience. This revelatory volume now brings her forward to stand beside her peers, including Grace Paley, as writer and translator Lydia Davis (Can't and Won't, 2014) avers in her rousing foreword. Volume editor Stephen Emerson provides further biographical background, since Berlin's peripatetic life (Alaska, Albuquerque, Chile, the Bay Area), three marriages, four sons, and rising and falling income levels and wildly varied jobs provided her with fertile material for her tales of shattering perception, razor humor, and whiplash surprise. Berlin is exceptionally attuned to the randomness of life, its pains and pleasures, our vulnerability and resiliency. She portrays a young, grieving, acidly witty woman taking measure of the aberrations she witnesses as a cleaning woman; an abandoned, pregnant wife considering an abortion; a nurse cradling an injured jockey. As characters recur and settings and predicaments vary, Berlin unflinchingly strips bare casual and catastrophic cruelty and injustice, dramatizing, as one narrator puts it, times of intense technicolor happiness and times that were sordid and frightening. An essential collection of jazzy, jolting, incisive, wryly funny, and keenly compassionate, virtuoso tales.--Seaman, Donna Copyright 2015 Booklist"
From Booklist, Copyright (c) American Library Association. Used with permission.
Publisher's Weekly Review:
"Berlin, who may just be the best writer you've never heard of, has a gift for creating stories out of anything, often from events as apparently mundane as a trip to the laundromat. Imagine a less urban Grace Paley, with a similar talent for turning the net of resentments and affections among family members into stories that carry more weight than their casual, conversational tone might initially suggest. Many of the strongest stories here are autobiographical, featuring Berlin's stand-in (sometimes called Lucille, sometimes Carlotta) and her sons, husbands and lovers; a range of jobs, mostly pink collar, but occasionally, as in the title story, blue; a complicated backstory across two continents; and a problem with booze. Berlin's offbeat humor, get-on-with-it realism, and ability to layer details that echo across stories and decades give her book a tremendous staying power. The collection could be tighter (there are over 40 stories, some only minor) and could give readers a better sense of how they're sequenced, but this collection goes a long way toward putting Berlin, who died in 2004, back in the public eye. Agent: Katherine Fausset, Curtis Brown. (Aug.) © Copyright PWxyz, LLC. All rights reserved."
(c) Copyright PWxyz, LLC. All rights reserved
Additional Information