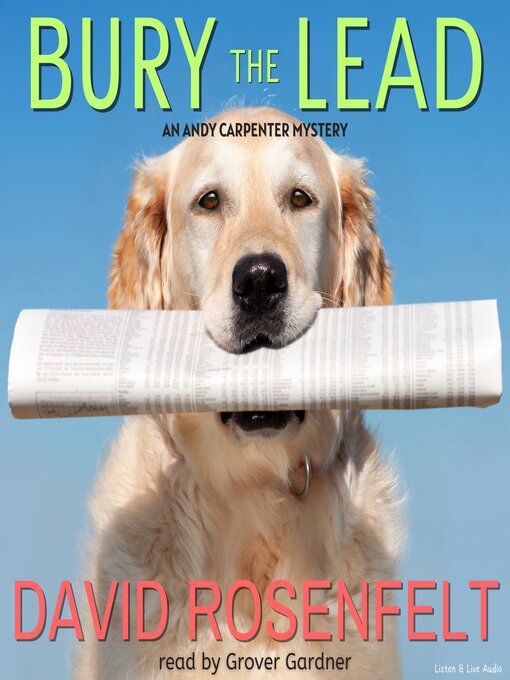 Bury the lead
Format:

OverDrive MP3 Audiobook

OverDrive Listen

Availability:

Available from OverDrive

1 of 2 copies
Summary
His streak of murder case acquittals made him a regular on cable talk shows. His recent $22 million inheritance bought him a dog rescue operation named the Tara Foundation after his own beloved golden retriever. Yet after turning down cases left and right, Andy Carpenter thinks he's facing a midlife crisis. He knows he needs to get back to some real work as fast as a felonious world will allow.When a friend, a newspaper owner, calls in a favor and asks him to protect his star reporter, Andy is less than thrilled. His new client is Daniel Cummings, a journalist who is being used as a mouthpiece by a brutal serial killer. Things only get worse when Daniel is discovered near the body of the murderer's latest victim. And after Andy himself starts collecting anonymous death threats, he hears the news every defense lawyer dreads...and moves to within a dangerous keystroke of becoming tomorrow's obituary.

Published Reviews
Booklist Review:
"Wisecracking defense attorney Andy Carpenter takes on his third unwinnable case in this thoroughly winning series. Antsy about reporter Daniel Cummings' exclusive contact with a serial killer who is strangling Jersey girls and removing their hands, the local newspaper editor retains Andy in case any legal issues should arise. Say, murder? Cummings is caught red-handed with the severed appendages of the latest victim, a local politician, and the prosecutor has plenty of hard evidence to suggest they've got their man. Miscellaneous complications with cold- and hot-blooded killers ensue, as the plot careens around various turns, but the real charm of this series lies in the wit of its affable narrator, who is not about to let an ongoing capital trial keep him from walking his beloved golden retriever, betting the point spread, or losing on the stock market. Add to this a likable supporting cast and a low-key love interest, and you have the legal-thriller genre's waggish rejoinder to Anthony Bruno and Janet Evanovich. A sure bet. --David Wright Copyright 2004 Booklist"
From Booklist, Copyright (c) American Library Association. Used with permission.
Publisher's Weekly Review:
"In Rosenfelt's breezy crime confection, his third to feature Andy Carpenter (after 2003's First Degree), a serial killer who cuts off his victims' hands has been terrorizing the dog-loving lawyer's northern New Jersey turf. When the cops charge one of the murders to newspaperman Daniel Cummings, who's been receiving messages from the killer taunting the police, Andy and his legal team step up to the defense. The author writes like a guy relentlessly channel surfing, always on the move, never risking boredom. Of police fiber technician Donald Prescott, one of the many characters briefly met, he notes: "if you possess both a desire to be a cop and a self-preservation instinct, it's a good job to have. There is even less chance that Prescott will get shot at than the guy who draws the chalk outlines around bodies." When a Passaic police detective asks Andy what he was doing while his ex-cop girlfriend was beating up a bad guy ("Holding her purse?"), Andy thinks, "He knows nothing; the fact is that Laurie wasn't even carrying a purse that night. It was more of a handbag." The witty asides never stop. The novel may not have a single convincing dramatic moment, but the tricks and turns before the resolution provide a fun rollercoaster ride. Agent, Robin Rue. Mystery Guild Featured Alternate. (June 9) FYI: Open and Shut (2002), the first in the series, was nominated for Edgar, Shamus and Gumshoe awards. (c) Copyright PWxyz, LLC. All rights reserved"
(c) Copyright PWxyz, LLC. All rights reserved
Additional Information