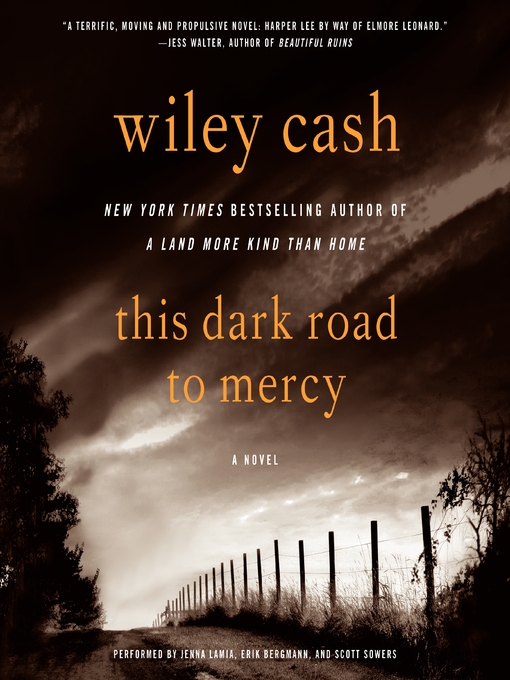 This dark road to mercy a novel
Format:

OverDrive MP3 Audiobook

2014

2014

OverDrive Listen

Availability:

Unavailable

0 of 1 copy
Summary
Hailed as "mesmerizing" (New York Times Book Review) and "as if Cormac McCarthy decided to rewrite Harper Lee's To Kill a Mockingbird" (Richmond Times-Dispatch), A Land More Kind Than Home made Wiley Cash an instant literary sensation...

Published Reviews
Booklist Review:
"When 12-year-old Easter and six-year-old Ruby's mother dies from an overdose, the two young sisters are put into a foster home. Their father, Wade, who had given up legal rights to the girls, finds them there and kidnaps them. Suspected of also having stolen a portion of the take in a multimillion-dollar theft from the man who masterminded the heist, Wade is being pursued by a psychopathic hit man determined to retrieve the stolen money. Also in pursuit is Brady Weller, a former policeman who is the girls' court-appointed guardian. Who will find Wade and the girls first is clearly a matter of life and death. Cash (A Land More Kind Than Home, 2012) tells his fast-moving, suspenseful story from three points of view: Easter's, Weller's, and the hit man Pruitt's. Both Wade and Pruitt are former baseball players, and Cash has cleverly folded another chase into their story: Mark McGwire and Sammy Sosa's pursuit of a new home-run record. Set in the Carolinas, Cash's novel is a fine example of reader-pleasing southern storytelling in the mold of Ron Rash and Tom Franklin.--Cart, Michael Copyright 2010 Booklist"
From Booklist, Copyright (c) American Library Association. Used with permission.
Publisher's Weekly Review:
"Cash's follow up to his bestselling debut novel, A Land More Kind Than Home, picks up as Easter Quillby and her younger sister reconnect with their deadbeat father, Wade. With help from Brady Weller, an ex-cop, Wade and the daughters are on the run from cliched bad man Pruitt, who on multiple occasions raises his sunglasses to deliver punch lines as he hunts Wade for stealing money from his gangster boss. The plot unfolds against a backdrop of Mark McGwire and Sammy Sosa's race to break the season home run record-an all-too-obvious metaphor for the main story, which culminates in a bathroom confrontation at a baseball stadium where the two players meet. Most of Cash's characters lay flatly within the high drama of the plot. Brady's friend, the Black & Mild-smoking, rap-music-listening Roc, the novel's most notable character of color, delivers cringe-worthy lines like, "What up, playa?" and "Damn, son." Even fans of Cash's first novel may find the melodrama of his latest more of a quick fix than a memorable read. Agent: Nat Sobel, Sobel Weber Associates. (Feb.) © Copyright PWxyz, LLC. All rights reserved."
Additional Information