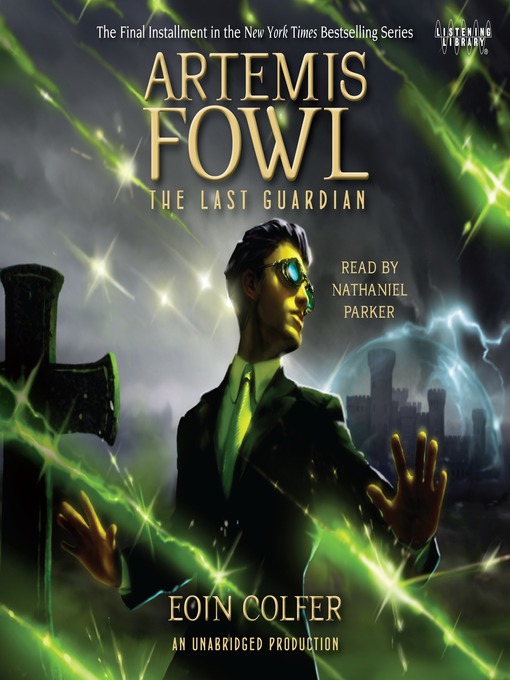 The last guardian
Format:

OverDrive MP3 Audiobook

2012

2012

OverDrive Listen

Availability:

Unavailable

0 of 3 copies
1 person on waitlist
Summary
Artemis's arch rival Opal Koboi has reanimated dead fairy warriors that take possession of Artemis's little brothers. Artemis has until sunrise to get the spirits to vacate his brothers and go back into the earth where they belong.

Published Reviews
Booklist Review:
"Bringing a long-running series to a close is always tricky no fan is ever entirely happy after all that buildup. All in all, though, Colfer has rounded off this final book about the not-always-likable Artemis Fowl in a way readers will appreciate, right down to the clever last lines. The principle characters are all there, and the overall feeling is uncharacteristically touching. Don't worry there's still all the adventure and snarkiness the series is known for: ingenious gadgets; humorous sidekicks, like the perpetually gassy Mulch Diggums; and faeries who kick . . . well, you know what. But this is an ending, after all. The plot centers around nemesis Opal Koboi's plot to open a gate that will release not only long-buried warrior faeries bent on revenge against the human race but actual Armageddon. The Fowl's Irish estate is at the center of the action, and Artemis, Holly, and Butler's plans fizzle until Colfer's antihero makes himself sacrificial bait. A definite winner.--Cruze, Karen Copyright 2010 Booklist"
From Booklist, Copyright (c) American Library Association. Used with permission.
Additional Information