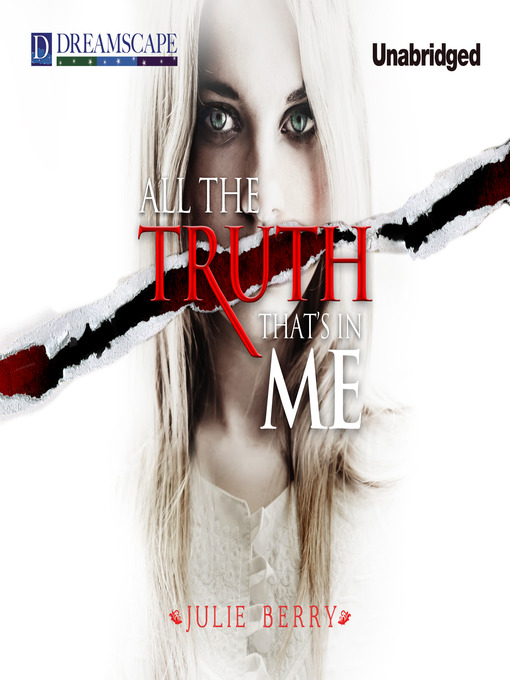 All the truth that's in me
Format:

OverDrive MP3 Audiobook

2013

2013

OverDrive Listen

Availability:

Available from OverDrive

2 of 2 copies
Summary
Four years ago, Judith and her best friend disappeared from their town of Roswell Station. Two years ago, only Judith returned, permanently mutilated, reviled and ignored by her friends and family. Unable to speak, Judith lives like a ghost in her own home, pouring out her thoughts to the boy who's owned her heart, even if he doesn't know it. But when Roswell Station is attacked, buried secrets come to light, and Judith is forced to choose: continue to live in silence, or recover her voice.

Published Reviews
Booklist Review:
"Like all things in this cunningly stylized novel, the setting is left undefined; a rough guess is mid-1800s America. The characters and plot, too, are mysteries in need of unfolding, and Berry's greatest accomplishment is jumbling the time line with confidence, thereby sprinkling every page with minor (or major) revelations. These trappings gild a not-that-unusual melodrama: 18-year-old Judith pines for Lucas, who has chosen another girl. Perhaps this is because Judith is mute, her tongue having been cut off by a madman who just happened to be Lucas' father. A few frustrating misunderstandings aside, the story gracefully incorporates everything from the right to education to the horrors of war to the freedom that comes along with acquiring language. What will stick in most readers' minds, though, is the first-person prose, which ranges from the unusually insightful (We were four people: the children we'd been, and grown strangers now) to the just plain pretty (Will her china face turn bronze beside you as you labor in your fields?). A strange but satisfying and relatively singular mix.--Kraus, Daniel Copyright 2010 Booklist"
From Booklist, Copyright (c) American Library Association. Used with permission.
Publisher's Weekly Review:
"Two years after her kidnapping, 18-year-old Judith returns to her small hometown of Roswell Station, maimed and incapable of speaking due to her mutilated tongue. She spends the ensuing years shunned by the townspeople, but when invaders threaten Roswell Station, she must decide if her secrets can be revealed to save her neighbors. Narrator McInerney delivers a solid performance in this audio edition. The story is not told chronologically and therefore McInerney must move back and forth through time, alternating her tone appropriately for scenes set before, during, and after Judith's kidnapping. The narrator also provides distinct character voices that are varied and appropriate. However, McInerney is at her best when rendering Judith's thoughts and vocalizing the character's inner frustration. Ages 12-up. A Viking hardcover. (Sept.) (c) Copyright PWxyz, LLC. All rights reserved."
(c) Copyright PWxyz, LLC. All rights reserved
Additional Information