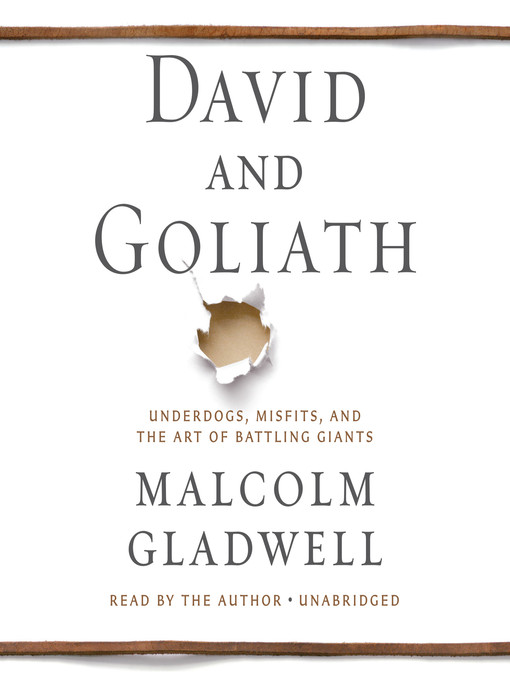 David and Goliath underdogs, misfits, and the art of battling giants
Format:

OverDrive MP3 Audiobook

2013

2013

OverDrive Listen

Availability:

Available from OverDrive

6 of 16 copies
3 people on waitlist
Summary
Malcolm Gladwell challenges how we think about obstacles and disadvantages, offering a new interpretation of what it means to be discriminated against, or cope with a disability, or lose a parent, or attend a mediocre school, or suffer from any number of other apparent setbacks.

Contents
Goliath : "Am I a dog that you should come to me with sticks?"
The Advantages of Disadvantages (and the Disadvantages of Advantages). Vivek Ranadivé: "It was really random. I mean, my father had never played basketball before." ; Teresa DeBrito: "My largest class was twenty-nine kids. Oh, it was fun." ; Caroline Sacks: "If I'd gone to the University of Maryland, I'd still be in science.
The Theory of Desirable Difficulty. David Boies: You wouldn't wish dyslexia on your child. Or would you? ; Emil "Jay" Freireich: "How Jay did it, I don't know." ; Wyatt Walker: "De rabbit is de slickest o' all de animals de Lawd ever made."
The Limits of Power. Rosemary Lawlor: "I wasn't born that way. This was forced upon me." ; Wilma Derksen: "We have all done something dreadful in our lives, or have felt the urge to." ; André Trocmé: "We feel obliged to tell you that there are among us a certain number of Jews."
Published Reviews
Booklist Review:
"*Starred Review* Gladwell's best-sellers, such as The Tipping Point (2000) and Outliers (2008), have changed the way we think about sociological changes and the factors that contribute to high levels of success. Here he examines and challenges our concepts of advantage and disadvantage in a way that may seem intuitive to some and surprising to others. Beginning with the classic tale of David and Goliath and moving through history with figures such as Lawrence of Arabia and Martin Luther King Jr., Gladwell shows how, time and again, players labeled underdog use that status to their advantage and prevail through the elements of cunning and surprise. He also shows how certain academic advantages, such as getting into an Ivy League school, have downsides, in that being a big fish in a small pond at a less prestigious school can lead to greater confidence and a better chance of success in later life. Gladwell even promotes the idea of a desirable difficulty, such as dyslexia, a learning disability that causes much frustration for reading students but, at the same time, may force them to develop better listening and creative problem-solving skills. As usual, Gladwell presents his research in a fresh and easy-to-understand context, and he may have coined the catchphrase of the decade, Use what you got. --Siegfried, David Copyright 2010 Booklist"
From Booklist, Copyright (c) American Library Association. Used with permission.
Additional Information