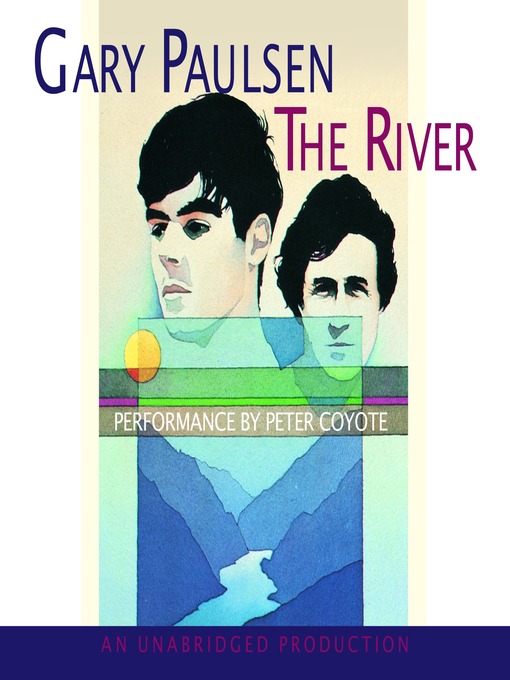 The river
Format:

OverDrive MP3 Audiobook

2009

2000

OverDrive Listen

Availability:

Available from OverDrive

2 of 2 copies
Summary
Because of his success surviving alone in the wilderness for fifty-four days, fifteen-year-old Brian, profoundly changed by his time in the wild, is asked to undergo a similar experience to help scientists learn more about the psychology of survival.

Published Reviews
Booklist Review:
"Gr. 5-12. In this sequel to Hatchet [BKL N 15 87], one of the best and most popular books of the 1980s, Paulsen takes the wilderness adventure beyond self-preservation and makes teenager Brian Robeson responsible for saving someone else. It's a year later, and Brian, now 15, is persuaded to repeat what he did in Hatchet--survive for a period in the Canadian wilderness. This time, though, he won't be alone; Derek, a government psychologist, will take notes so that others can learn from Brian's experience. Everything goes well, in fact, too well; it's like a pleasant camping trip, until Derek is hit by lightning and lies in a coma. With no tools except a knife, Brian has to build a raft, navigate the river and the wild rapids, and haul Derek to the trading post about 100 miles downstream. It's all very well for Paulsen to insist that luck is part of survival, but there's luck and then there's wild coincidence--are we really supposed to believe that Brian would find all the logs for the raft conveniently cut for him right there in a beavers' clearing? As usual, Paulsen overdoes the Hemingway-type cadences and sonorous repetitions, especially when he's talking about Life. But at its best, the terse, almost monosyllabic writing perfectly expresses the basic struggle in the woods. There's candor not only in the dark scene where Brian is tempted to ditch Derek and make it alone, but also in the undramatic final admission that Derek would probably have been all right even if Brian had not made the run. Young people (including the most reluctant readers) will find the survival detail as gripping as ever, and when rooted in physical fact--in what the final chapter title calls "Measurements"--the plain words tell a great story of rebirth and connection. ~--Hazel Rochman"
From Booklist, Copyright (c) American Library Association. Used with permission.
Publisher's Weekly Review:
"Nearly two years after being marooned in the wilderness--the experience recounted in Hatchet --Brian agrees to go back, accompanied by Derek, a psychologist who wants to study the strategies and especially the mental toughness that brought Brian through. At first he chafes at the relative comforts, the lack of true challenge, this second time around. All that changes when Derek is struck by lightning and falls into a coma--Brian must raft Derek to the nearest outpost, 100 miles downriver. In attempting this sequel Paulsen has set himself a difficult task, which he meets superbly. The new adventure is as riveting as its predecessor and yet, because of significant differences in the nature of its dramatic tension, is not merely a clone. The experiences of Hatchet , distilled by time, inform Brian's character throughout, so that the psychological terrain of the sequel is fresh and distinct. The older Brian is more reflective and accepting, and these qualities add new dimensions to his interactions with nature. And returning to the north effects a subtle but startling change: instantly, almost unconsciously, Brian finds himself absorbing every detail of the scene around him--taking the scent of the wind, reading the shape of each cloud--and in the process turning inward, finding words superfluous in the face of the wild. There is no dearth of action and physical suspense here, rendered in terse, heart-stopping prose. Paulsen, as always, pulls no punches: a scene in which Brian fantasizes about cutting Derek loose from the raft is as powerful as they come. Ages 12-up. (June) (c) Copyright PWxyz, LLC. All rights reserved"
(c) Copyright PWxyz, LLC. All rights reserved
Additional Information