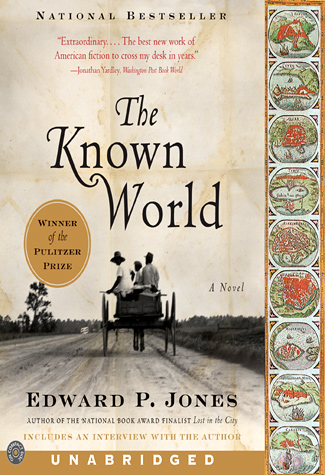 The known world
Format:

OverDrive MP3 Audiobook

2004

2004

OverDrive Listen

Availability:

Available from OverDrive

1 of 4 copies
2 people on waitlist
Summary
In one of the most acclaimed novels in recent memory, Edward P. Jones, two-time National Book Award finalist, tells the story of Henry Townsend, a black farmer and former slave who falls under the tutelage of William Robbins, the most powerful man in Manchester County, Virginia. Making certain he never circumvents the law, Townsend runs his affairs with unusual discipline. But when death takes him unexpectedly, his widow, Caldonia, can't uphold the estate's order and chaos ensues. In a daring and ambitious novel, Jones has woven a footnote of history into an epic that takes an unflinching look at slavery in all of its moral complexities.

Published Reviews
Booklist Review:
"Henry Townsend, born a slave, is purchased and freed by his father, yet he remains attached to his former owner, even taking lessons in slave owning when he eventually buys his own slaves. Townsend is part of a small enclave of free blacks who own slaves, thus offering another angle on the complexities of slavery and social relations in a Virginia town just before the Civil War. His widow, Caldonia, grief-stricken and more conflicted about slavery than Henry was, fails to maintain the social order. Also caught in the miasma of slavery is Sheriff John Skiffington, an honorable man who, when presented with a slave as a marriage gift, spends the remainder of his marriage, along with his wife, dithering about how to deal with the girl and ends up treating her like a daughter. These are only a few of the deftly portrayed characters in this elegantly written novel that explores the interweaving of sex, race, and class. Jones moves back and forth in time, making the reader omniscient, knowing what will eventually befall the characters despite their best and worst efforts, their aspirations and their moral failings. This is a profoundly beautiful and insightful look at American slavery and human nature. VanessaBush."
From Booklist, Copyright (c) American Library Association. Used with permission.
Publisher's Weekly Review:
"In a crabbed, powerful follow-up to his National Book Award-nominated short story collection (Lost in the City), Jones explores an oft-neglected chapter of American history, the world of blacks who owned blacks in the antebellum South. His fictional examination of this unusual phenomenon starts with the dying 31-year-old Henry Townsend, a former slave-now master of 33 slaves of his own and more than 50 acres of land in Manchester County, Va.-worried about the fate of his holdings upon his early death. As a slave in his youth, Henry makes himself indispensable to his master, William Robbins. Even after Henry's parents purchase the family's freedom, Henry retains his allegiance to Robbins, who patronizes him when he sets up shop as a shoemaker and helps him buy his first slaves and his plantation. Jones's thorough knowledge of the legal and social intricacies of slaveholding allows him to paint a complex, often startling picture of life in the region. His richest characterizations-of Robbins and Henry-are particularly revealing. Though he is a cruel master to his slaves, Robbins is desperately in love with a black woman and feels as much fondness for Henry as for his own children; Henry, meanwhile, reads Milton, but beats his slaves as readily as Robbins does. Henry's wife, Caldonia, is not as disciplined as her husband, and when he dies, his worst fears are realized: the plantation falls into chaos. Jones's prose can be rather static and his phrasings ponderous, but his narrative achieves crushing momentum through sheer accumulation of detail, unusual historical insight and generous character writing. Agent, Eric Simonoff. (Sept.) Forecast: This is a new tack for Jones, whose collection Lost in the City was set in Washington, D.C., in the 1960s and '70s. Amistad is sending the novel off with a bang-a 10-city author tour, a 20-city national radio campaign-and it should attract considerable review attention. (c) Copyright PWxyz, LLC. All rights reserved"
(c) Copyright PWxyz, LLC. All rights reserved
Additional Information