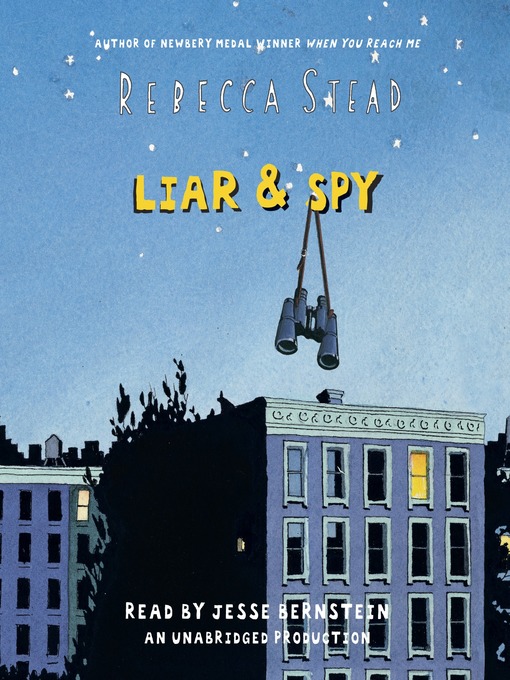 Liar & spy
Format:

OverDrive MP3 Audiobook

2012

2012

OverDrive Listen

Availability:

Unavailable

0 of 1 copy
Summary
When seventh grader Georges (the S is silent) moves into a Brooklyn apartment building, he meets Safer, a twelve-year-old coffee-drinking loner and self-appointed spy. Georges becomes Safer's first spy recruit. His assignment? Tracking the mysterious Mr. X, who lives in the apartment upstairs. But as Safer becomes more demanding, Georges starts to wonder: how far is too far to go for your only friend?

Published Reviews
Booklist Review:
"Stead follows her Newbery Medal winner, When You Reach Me (2009), with another story that deals with reality and perception. Seventh-grader Georges (like Seurat) is living in a new apartment in Brooklyn since the loss of his father's job necessitated selling their house. His mother still has her job as a nurse, but now she must work double shifts. He goes to the same school, though, which is not necessarily a good thing, because he is relegated to the outsiders' table. Having a neighbor his age, the loosely homeschooled Safer, offers some new possibilities for Georges, especially since Safer considers himself a spy and is happy to lure Georges into his games. There are two mysteries here: one concerns Georges' mother, and the other the truth about a shady building tenant, who Safer maintains could be a murderer. Many readers will guess at least part of the truth about the first, despite the sometimes-labored effort put into concealing it. The revelation about the second will be more of a surprise and offers insight into the nature of friendship. Fresh and funny, this will speak to many children trying to find their own way. HIGH-DEMAND BACKSTORY: The buzz generated by Stead's multiaward winner, When You Reach Me, ensures that this will have a built-in audience, and large-scale promotional plans won't hurt either.--Cooper, Ilene Copyright 2010 Booklist"
From Booklist, Copyright (c) American Library Association. Used with permission.
Publisher's Weekly Review:
"When seventh-grader Georges and his family move into a new apartment building in Brooklyn, N.Y., he meets 12-year-old Safer, who recruits him to join her spy squad in an attempt to gather intelligence about Mr. X, a man who resides in an upstairs suite. As Georges, narrator Jesse Bernstein is youthful yet wise: a child who's suffered more than his fair share of life. As Safer, Bernstein is darker, sounding like a troubled youth who is ready to control any situation. Of course, there's more than meets the eye in Stead's novel, and Bernstein's understated performance leaves room for interpretation. Listeners will be charmed by this memorable listen and Bernstein's rendition of two unusual and endlessly interesting characters. Ages 8-up. A Wendy Lamb hardcover. (Aug.) (c) Copyright PWxyz, LLC. All rights reserved."
(c) Copyright PWxyz, LLC. All rights reserved
Additional Information