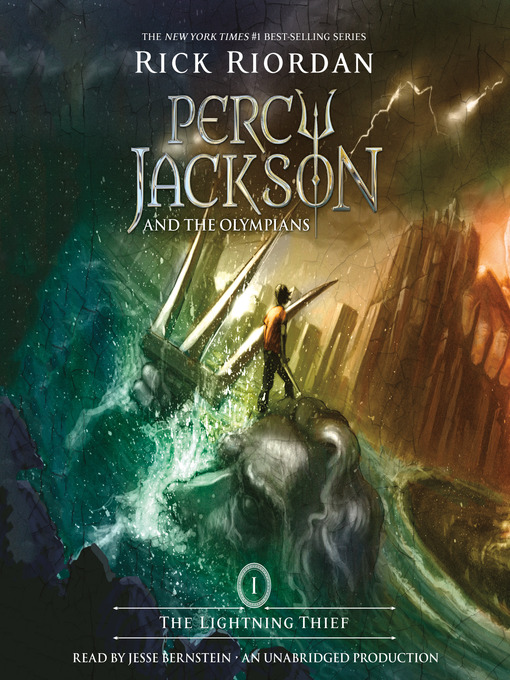 The lightning thief
Format:

OverDrive MP3 Audiobook

2006

2005

OverDrive Listen

Availability:

Unavailable

0 of 21 copies
5 people on waitlist
Summary
Twelve-year-old Percy Jackson is about to be kicked out of boarding school...again. No matter how hard he tries, he can't seem to stay out of trouble. But can he really be expected to stand by and watch while a bully picks on his scrawny best friend? Or not defend himself against his pre-algebra teacher when she turns into a monster and tries to kill him? Of course, no one believes Percy about the monster incident; he's not even sure he believes himself. Until the Minotaur chases him to summer camp. Suddenly, mythical creatures seem to be walking straight out of the pages of Percy's Greek mythology textbook and into his life. The gods of Mount Olympus, he's coming to realize, are very much alive in the twenty-first century. And worse, he's angered a few of them: Zeus's master lightning bolt has been stolen, and Percy is the prime suspect. Now Percy has just ten days to find and return Zeus's stolen property, and bring peace to a warring Mount Olympus.

Published Reviews
Publisher's Weekly Review:
"For this fast-paced adventure that zaps characters from Greek mythology into modern times, Bernstein gets the reading rhythm just right. He conveys Riordan's notes of humor, sarcasm and downright amazement in the voice of 12-year-old Percy Jackson, a smart kid who seems to be a magnet for trouble. But one day Percy discovers that being kicked out of a different school every year and dealing with learning challenges like ADHD is nothing compared to the truth of his life: he's a demigod, the son of Poseidon. Of course, among other things, that means an action-packed mission to the Underworld to find Zeus's stolen lightning bolt and return it to Mount Olympus (specially accessed as the 600th floor in the Empire State Building). Listeners will be hanging on every zippy chapter here and will be eager to find out where Percy heads next in this planned series. Ages 10-up. (July) (c) Copyright PWxyz, LLC. All rights reserved"
(c) Copyright PWxyz, LLC. All rights reserved
Additional Information