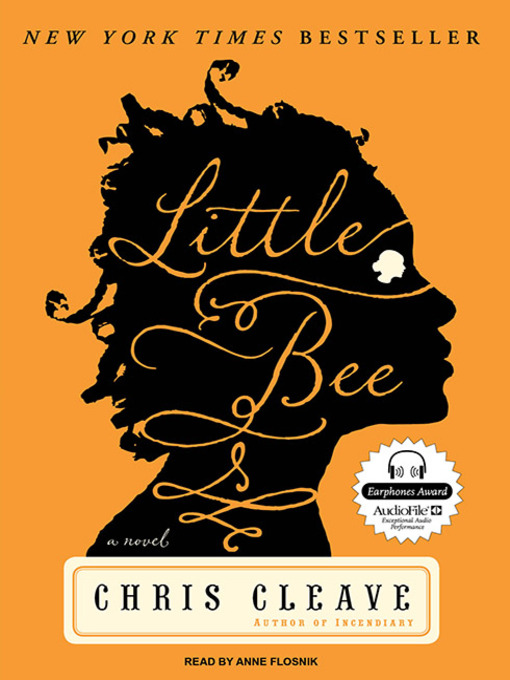 Little Bee a novel
Format:

OverDrive MP3 Audiobook

2009

2009

OverDrive Listen

Availability:

Unavailable

0 of 2 copies
5 people on waitlist
Summary
British couple Andrew and Sarah O'Rourke, vacationing on a Nigerian beach in a last-ditch effort to save their faltering marriage, come across Little Bee and her sister, Nigerian refugees fleeing from machete-wielding soldiers intent on clearing the beach. The horrific confrontation that follows changes the lives of everyone involved in unimaginable ways.Two years later, Little Bee appears in London on the day of Andrew's funeral and reconnects with Sarah. Sarah is struggling to come to terms with her husband's recent suicide and the stubborn behavior of her four-year-old son, who is convinced that he really is Batman. The tenuous friendship between Sarah and Little Bee that grows, is challenged, and ultimately endures is the heart of this emotional, tense, and often hilarious novel.Considered by some to be the next Kite Runner, Little Bee is an achingly human story set against the inhuman realities of war-torn Africa. Wrenching tests of friendship and terrible moral dilemmas fuel this irresistible novel.

Published Reviews
Booklist Review:
"*Starred Review* Little Bee, smart and stoic, knows two people in England, Andrew and Sarah, journalists she chanced upon on a Nigerian beach after fleeing a massacre in her village, one grisly outbreak in an off-the-radar oil war. After sneaking into England and escaping a rural immigration removal center, she arrives at Andrew and Sarah's London suburb home only to find that the violence that haunts her has also poisoned them. In an unnerving blend of dread, wit, and beauty, Cleave slowly and arrestingly excavates the full extent of the horror that binds Little Bee and Sarah together. A columnist for the Guardian, Cleave earned fame and notoriety when his first book, Incendiary, a tale about a terrorist attack on London, was published on the very day London was bombed in July 2005. His second ensnaring, eviscerating novel charms the reader with ravishing descriptions, sly humor, and the poignant improvisations of Sarah's Batman-costumed young son, then launches devastating attacks in the form of Little Bee's elegantly phrased insights into the massive failure of compassion in the world of refugees. Cleave is a nerves-of-steel storyteller of stealthy power, and this is a novel as resplendent and menacing as life itself.--Seaman, Donna Copyright 2008 Booklist"
From Booklist, Copyright (c) American Library Association. Used with permission.
Publisher's Weekly Review:
"A violent incident on a Nigerian beach has tragic echoes in posh London in Cleave's beautifully staged if haphazardly plotted debut novel. British couple Andrew O'Rourke and his wife, Sarah, are on vacation when they come across two sisters, Little Bee and Nkiruka, on the run from the killers who have massacred everyone else in their village-in the pay, it turns out, of an oil company seeking the land. Soon the killers arrive and propose a not-quite-credible deal: they will trade the girls if Andrew and Sarah each cut off a finger. Andrew can't do it, but Sarah does, and the killers drag the girls away. So two years later, when Little Bee shows up at Sarah's house on the day of the funeral for Andrew, who has killed himself, it seems almost miraculous. Later, however, it's revealed that Little Bee has been hiding around the O'Rourke place, and that Andrew seeing her set off his suicide. Sarah nevertheless determines to help Little Bee get refugee status. Cleave has a sharp cinematic eye, but the plot is undermined by weak motivations and coincidences. (Feb.) (c) Copyright PWxyz, LLC. All rights reserved"
(c) Copyright PWxyz, LLC. All rights reserved
Additional Information