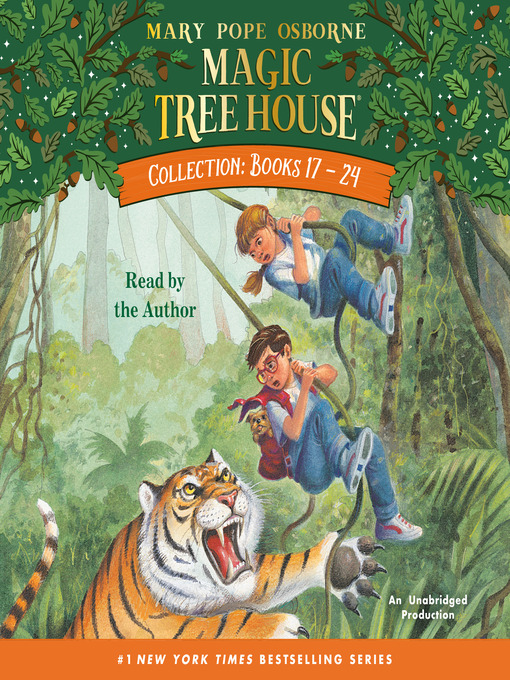 Magic tree house collection.
Format:

OverDrive MP3 Audiobook

2006

2005

OverDrive Listen

Availability:

Unavailable

0 of 3 copies
13 people on waitlist
Summary
A collection of eight adventures each filled with history, suspense and amazing surprises!

Contents
Tonight on the Titanic
Buffalo before breakfast
Tigers at twilight
Dingos at dinnertime
Civil War on Sunday
Revolutionary war on Wedesday
Twister on Tuesday
Earthquake in the early morning.
Additional Information
Series
Osborne, Mary Pope. Magic tree house (Sound recording) ; #17-24.
Subjects
Brothers and sisters Juvenile fiction
Magic Juvenile fiction
Tree houses Juvenile fiction
Time travel Juvenile fiction
Brothers and sisters Fiction
Magic Fiction
Tree houses Fiction
Time travel Fiction
Historical Fiction
Juvenile Fiction
Children's audiobooks.

Publisher

New York :Penguin Random House Audio Publishing Group2006




2005



Edition
Unabridged.
Other Titles
Tonight on the Titanic.
Buffalo before breakfast.
Tigers at twilight.
Dingoes at dinnertime.
Civil War on Sunday.
Revolutionary war on Wednesday.
Twister on Tuesday.
Earthquake in the early morning.

Contributors
Osborne, Mary Pope. Tonight on the Titanic.
Osborne, Mary Pope. Buffalo before breakfast.
Osborne, Mary Pope. Tigers at twilight.
Osborne, Mary Pope. Dingoes at dinnertime.
Osborne, Mary Pope. Civil War on Sunday.
Osborne, Mary Pope. Revolutionary war on Wednesday.
Osborne, Mary Pope. Twister on Tuesday.
Osborne, Mary Pope. Earthquake in the early morning.
OverDrive, Inc.

Participants/Performers

Read by the author.




Mary Pope Osborne.



Audience

Recommended for listeners ages 5 to 8.




For ages 4-8.



Language

English



System Details

Mode of access: World Wide Web.




Format: OverDrive WMA Audiobook




Format: OverDrive MP3 Audiobook




Requires OverDrive Media Console 1.0 / 1.0 (Windows Mobile) or OverDrive Media Console 3.0 (Windows) / 1.0 (Mac) / 1.0 (Windows Mobile)



Description

1 audio file : digital.



ISBN
9780739330883
9780739330883

Other
Classic View