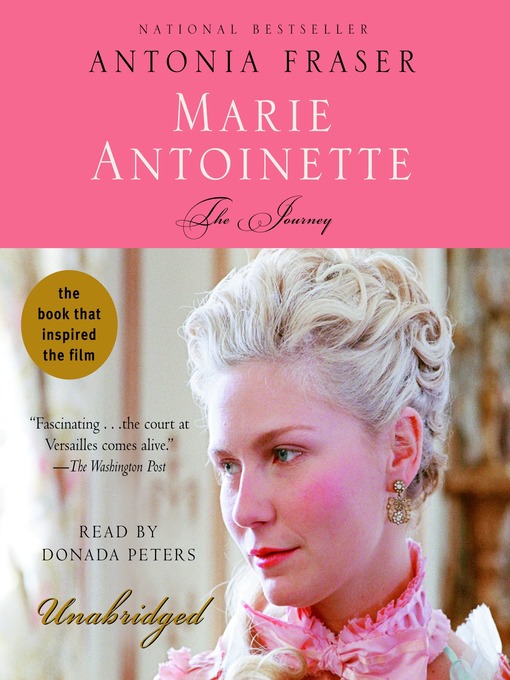 Marie Antoinette [the journey]
Format:

OverDrive MP3 Audiobook

2006

2006

OverDrive Listen

Availability:

Available from OverDrive

1 of 1 copy
Summary
France's beleaguered queen, Marie Antoinette, wrongly accused of uttering the infamous "Let them eat cake," was the subject of ridicule and curiosity even before her death; she has since been the object of debate and speculation and the fascination so often accorded tragic figures in history. Married in mere girlhood, this essentially lighthearted, privileged, but otherwise unremarkable child was thrust into an unparalleled time and place, and was commanded by circumstance to play a significant role in history. Antonia Fraser's lavish and engaging portrait of Marie Antoinette, one of the most recognizable women in European history, excites compassion and regard for all aspects of her subject, immersing the listener not only in the coming-of-age of a graceful woman, but also in the unraveling of an era.

Published Reviews
Booklist Review:
"Did Marie Antoinette, the notorious and ill-fated queen of France, actually respond to the peasants' clamor for bread with, "Let them eat cake" ? Such myths and fallacies associated with the consort of the guillotined Louis XVI are cleared up in this vivid, well-rounded biography by the popular British author of, among other well-received works, Mary Queen of Scots (1969) and Royal Charles: Charles II and the Restoration (1979). Marie Antoinette was dispatched to the French court as a teenage bride by her mother, Empress Maria Theresa of Austria, to cement an alliance between the two "superpowers." Marie's intended role was to function as a spy-agent for the Austrian imperial court. She had been raised with a certain informality, a sensibility she brought with her to the opulent Palace of Versailles, but Fraser is quick to admit to Marie's extravagance once she became queen. Even though Marie's marriage to Louis XVI proved problematic, the king never took a mistress; however, Marie got saddled with a reputation for taking lovers of both sexes. Although Marie had no real taste for politics, the revolution proved fatal for her, but Fraser concludes, "her weaknesses, although manifest, were of trivial worth in the balance of her misfortune." --Brad Hooper"
From Booklist, Copyright (c) American Library Association. Used with permission.
Publisher's Weekly Review:
"A child-princess is married off to a husband of limited carnal appetite. Her indiscretions and navet, scorned by elderly dowagers, are coupled with charity, joie de vivre and almost divine glamour but her life is cut brutally short. The queen of France's life is rich in emotional resonance, riddled with sexual subplots and personal tragedies, and provides fertile ground for biographers. Fraser's sizable new portrait avoids the saccharine romance of Evelyne Lever's recent Marie Antoinette, balancing empathy for the pleasure-loving queen with an awareness of the inequalities that fed revolution after all, Marie herself was fully conscious of them. Her subject shows no let-them-eat cake arrogance, but is deeply (even surprisingly) compassionate, with a "public reputation for sweetness and mercy" that is only later sullied by vituperative pamphleteers and bitter unrest. She would sometimes be trapped by ingenuousness, and later by a fatal sense of duty. Yet her graceful bearing, acquired under the tutelage of her demanding mother, the empress Maria Teresa, made her an unusually popular princess before she was scapegoated as "Madame Deficit" and much, much worse. The portrait is drawn delicately, with pleasant touches of humor (a long-awaited baby is conceived around the time of Benjamin Franklin's visit: "Perhaps the King found this first contact with the virile New World inspirational"). Fraser's approach is controlled and thoughtful, avoiding the extravagance of Alison Weir's royal biographies. Her queen is neither heroine nor villain, but a young wife and mother who, in her journey into maturity, finds herself caught in a deadly vise. Color and b&w illus. (on sale: Sept. 18) Forecast: Fraser needs no introduction to American audiences. She will come over from England for a five-city tour, and with widespreand favorable reviews, this should have no trouble making the bestseller lists. It's a BOMC, History Book Club, Literary Guild and QPB selection. (c) Copyright PWxyz, LLC. All rights reserved"
(c) Copyright PWxyz, LLC. All rights reserved
Additional Information