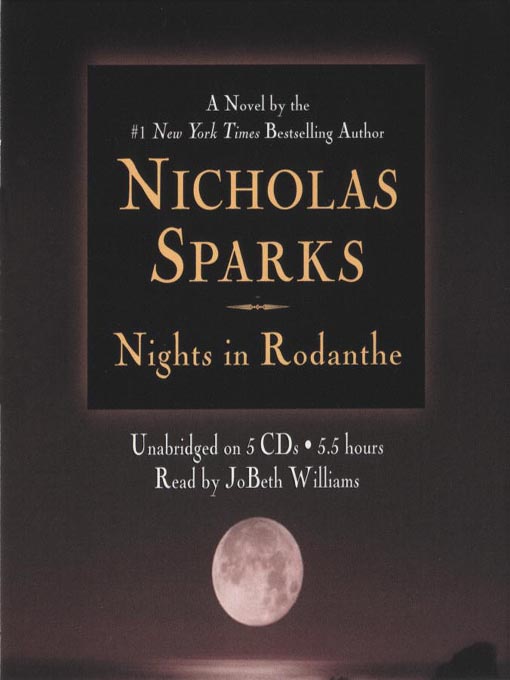 Nights in Rodanthe
Format:

OverDrive MP3 Audiobook

2005

2005

OverDrive Listen

Availability:

Unavailable

0 of 1 copy
3 people on waitlist
Summary
When confronted by raging fires or deadly accidents, volunteer fireman Taylor McAden feels compelled to take terrifying risks to save lives. But there is one leap of faith Taylor can't bring himself to make: He can't fall in love. For all his adult years, Taylor has sought out women who need to be rescued, women he leaves as soon as their crisis is over, as soon as the relationship starts to become truly intimate. Then, one day, a raging, record-breaking storm hits his small Southern town. Denise Holton, a young single mother, is driving through it when her car skids off the road. With her is her four-year-old son, Kyle, a boy with severe learning disabilities and for whom she has sacrificed everything. Unconscious and bleeding, she-but not Kyle-will be found by Taylor McAden. And when she wakes, the chilling truth becomes clear to both of them: Kyle is gone.

Published Reviews
Booklist Review:
"Sparks, popular author of several romantically themed best-sellers, including Message in a Bottle (1998), is back at it with his latest mix of love story and pathos. He doesn't disappoint, whipping up plenty of melodrama in the story of two shattered people, both badly scarred by past experiences, who find each other late in life and realize they are soul mates. Adrienne Willis is a 45-year-old mother of three whose husband recently abandoned her for a younger woman. When she visits the small coastal town of Rodanthe, North Carolina, seeking a bit of respite from her problems, she meets Paul Flanner, a 54-year-old doctor who has sold his thriving medical practice and come to Rodanthe to escape his own tortured past. Despite their short courtship, the two find themselves falling madly and passionately in love and vow to spend their lives together. Unfortunately, Paul needs to make amends with the son he has long neglected and so embarks on an ill-fated trip, which leads to heartbreak. Sparks has a very solid fan base, and they will be clamoring for his latest. --Kathleen Hughes"
From Booklist, Copyright (c) American Library Association. Used with permission.
Publisher's Weekly Review:
"Sparks (A Bend in the Road, etc.) logs more miles on the winding high road of romance with the story of two middle-aged people who meet by chance in the small North Carolina coastal town of Rodanthe. The impassioned but doomed romance seems to owe much to Robert James Waller's The Bridges of Madison County. Once again, a housewife who has focused on everyone but herself indulges in a brief, intense, secret affair with a stranger who changes her life forever. As the story begins, Adrienne Willis is 60, the divorced mother of three grown children. To help her troubled daughter cope with the untimely recent death of her husband, Adrienne tells her the tale of her love affair, which took place 15 years before. At the time, Adrienne was an uptight matron whose ex-husband had just left her for a younger woman. This rejection colors her entire life, and Sparks realistically portrays a vulnerable and isolated woman who throws herself into raising her children to escape her despair. Paul Flanner, her paramour, is a surgeon and an obsessive workaholic with no genuine connection to his wife or son, whose world completely falls apart when one of his patients inexplicably dies. Sparks builds a taut, plausible relationship between his protagonists, but even fans may be irked by the obviousness of their story and the inevitability of their fate. Agent, Theresa Park. (Sept. 18) Forecast: The obvious echoes of The Bridges of Madison County are more likely to hurt this title than help it, but Sparks has a proven track record, and major television and print advertising and a 25-city author tour should inflate sales. (c) Copyright PWxyz, LLC. All rights reserved"
(c) Copyright PWxyz, LLC. All rights reserved
Additional Information