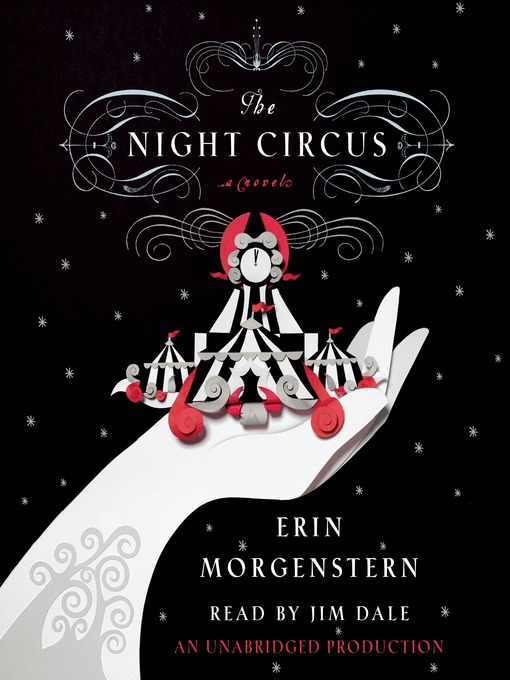 The night circus [a novel]
Format:

OverDrive MP3 Audiobook

2011

2011

OverDrive Listen

Availability:

Unavailable

0 of 15 copies
14 people on waitlist
Summary
A circus, titled Le Cirque des Reve, comes to town out of the blue and without warning. Within its tents, young magicians Celia and Marco compete to be the best, having done so since childhood. However, under the backdrop of their intense rivalry, a blossoming romance develops.

Published Reviews
Booklist Review:
"*Starred Review* This big and no, not bulky compelling first novel ushers in a menacing tone with its first sentence: The circus arrives without warning. Why would a circus arrive so quietly in town, and why would anyone need warning about this particular one? The time span here is 30 years, from 1873 to 1903, and the settings range from America to Europe. To a famous magician is delivered a little girl who, as it turns out, is his child, and fortunately for his future, she is possessed of magical powers. As it also happens, this magician has an archrival, who, in the face of the first magician's jackpot in the form of his little girl, seeks a young person for him to train to rival her. What the two magicians did not anticipate, as the years pass and the two young people, the girl and the boy whom the second magician found, are honed in their specialty for performance's sake and to outplay the other one, is that the young persons, when of an age, would meet and, surprising or not to the reader, fall in love. How will their destiny play out now? With appeal for readers not particularly geared to fantasy but who plainly enjoy an unusual and well-drawn story, this one will make a good crossover suggestion.--Hooper, Bra. Copyright 2010 Booklist"
From Booklist, Copyright (c) American Library Association. Used with permission.
Publisher's Weekly Review:
"A circus-Le Cirque des Reves-mysteriously appears at night, remains open only during hours of darkness, and then just as mysteriously disappears. But unknown to its visitors, the circus is really a venue for a dangerous game between two talented young illusionists whose magic is real. Bound to each other by their masters, Celia and Marco are forced to challenge each other to increasingly dangerous feats and displays of sorcery. But the real challenges come when respect and love blooms between them. Morgenstern's wonderful novel is made all the more enchanting by top-notch narration from the incomparable Jim Dale. The voices he creates add depth and nuance to the book's characters. And while some of those voices may echo his work on the Harry Potter series, they are nonetheless perfectly suited to Morgenstern's characters. Mesmerizing from the very start, this audio version will enchant listeners. A Doubleday hardcover. (Sept.) (c) Copyright PWxyz, LLC. All rights reserved."
(c) Copyright PWxyz, LLC. All rights reserved
Additional Information