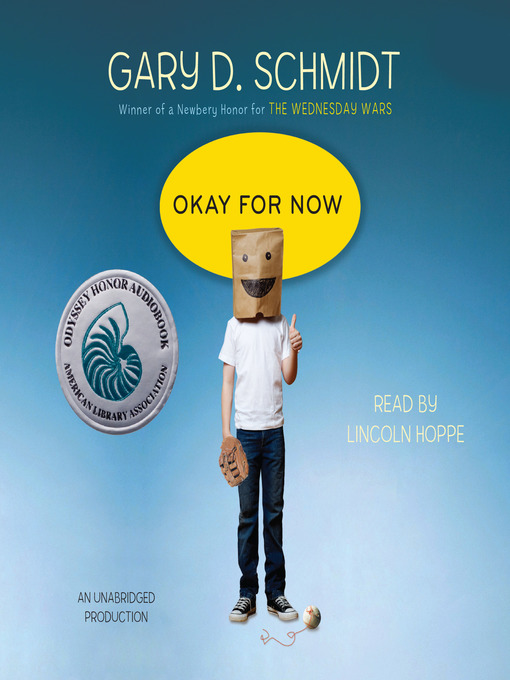 Okay for now
Format:

OverDrive MP3 Audiobook

2011

2011

OverDrive Listen

Availability:

Unavailable

0 of 1 copy
Summary
As a fourteen-year-old who just moved to a new town, with no friends, an abusive father, and a louse for an older brother, Doug Swieteck has all the stats stacked against him until he finds an ally in Lil Spicer--a fiery young lady. Together, they find a safe haven in the local library, inspiration in learning about the plates of John James Audubon's birds, and a hilarious adventure on a Broadway stage.

Published Reviews
Booklist Review:
"*Starred Review* In this stand-alone companion to The Wednesday Wars (2007), a Newbery Honor Book set in the late 1960s, Schmidt focuses on Holling Hoodhood's classmate Doug Swieteck, who is furious when his volatile father gets fired and moves the family to tiny Marysville, New York. Eighth grade gets off to a rocky start, particularly after Doug's brother is blamed for a series of local break-ins, and Doug, too, is viewed with suspicion. Life at home with his hard-drinking dad is rocky as well, especially after Doug's second brother returns from Vietnam without his legs. In addition to brief character references, this title shares much with The Wednesday Wars. Here, John James Audubon's portraits of birds, rather than Shakespeare's plays, provide a cultural awakening, and once again, Schmidt skillfully makes a reluctant boy's connection with the works a plausible and moving catalyst for strength and growth. Schmidt stretches credibility with another wish-fulfilling ending, but readers will likely forgive any plot contrivances as they enjoy Doug's distinctive, rhythmic narration, inventively peppered wit. stat. about his life, which reveals hard, sometimes shocking truths about the time period and, most of all, Doug's family. Delivered in a wholly believable voice, Doug's euphemisms are heartbreaking and authentic, as when he describes his dad's violence. He has quick hands. Reproductions of Audubon plates introduce each chapter in this stealthily powerful, unexpectedly affirming story of discovering and rescuing one's best self, despite family pressure to do otherwise.--Engberg, Gillia. Copyright 2010 Booklist"
From Booklist, Copyright (c) American Library Association. Used with permission.
Publisher's Weekly Review:
"This companion to The Wednesday Wars follows the formula of Schmidt's Newbery Honor winner with less success. Doug Swieteck, a prankster in the previous book, has graver problems than Holling Hoodhood did, making the interplay of pathos and slapstick humor an uneasy fit. In summer 1968, the Swietecks leave Long Island for the Catskills, where Doug's father has found work. Doug's mother (like Holling's) is kind but ineffectual; Mr. Swieteck is a brutish jerk. His abuse of his three sons, one of whom is currently in Vietnam, happens mostly offstage, but one episode of unthinkable cruelty is recounted as a flashback to explain why Doug refuses to take off his shirt in gym class. Doug does make two key friends: Lil, whose father owns the deli for which Doug becomes delivery boy, and the less fleshed-out Mr. Powell, a librarian who instantly sees Doug's potential as an artist. There are lovely moments, but the late addition of an implausible subplot in which Lil, who has never shown an interest in acting, is drafted for a role in a Broadway play, seems desultory considering the story's weightier elements. Ages 10-14. (Apr.) (c) Copyright PWxyz, LLC. All rights reserved."
(c) Copyright PWxyz, LLC. All rights reserved
Additional Information
Subjects
Audubon, John James, 1785-1851. Birds of America Juvenile fiction
Audubon, John James, 1785-1851. Birds of America Fiction
Swieteck, Doug (Fictitious character) Juvenile fiction
Families New York (State) New York Juvenile fiction
Dysfunctional families Juvenile fiction
Schools Juvenile fiction
Junior high schools Juvenile fiction
Friendship Juvenile fiction
Theater New York (State) New York Juvenile fiction
Swieteck, Doug (Fictitious character) Fiction
Family life New York (State) New York Fiction
Family problems Fiction
Schools Fiction
Junior high schools Fiction
Friendship Fiction
Theater New York (State) New York Fiction
Coming of age Fiction
Humorous stories
Historical Fiction
Juvenile Literature
Juvenile Fiction
New York History 20th century Juvenile fiction.
Broadway (New York, N.Y.) Juvenile fiction.
Broadway (New York, N.Y.) Fiction.
Bildungsromans.
Humorous fiction.
Audiobooks.
1785-1851.
20th century

Publisher

New York :Listening Library,2011




Books on Tape2011



Contributors
Hoppe, Lincoln, 1971-
OverDrive, Inc.

Participants/Performers

Read by Lincoln Hoppe.



Audience

3-12.



Language

English



System Details

Mode of access: World Wide Web.




Format: OverDrive WMA Audiobook




Format: OverDrive MP3 Audiobook




Requires OverDrive Media Console 1.0 / 1.0 (Windows Mobile) or OverDrive Media Console 3.0 (Windows) / 1.0 (Mac) / 1.0 (Windows Mobile)



Description

1 audio file : digital



ISBN
9780307915955
0307915956

Other
Classic View