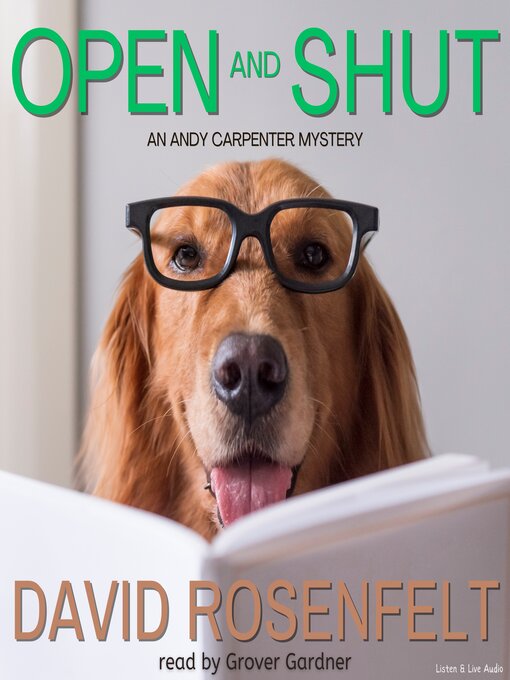 Open and shut
Format:

OverDrive MP3 Audiobook

2008

2008

OverDrive Listen

Availability:

Unavailable

0 of 2 copies
3 people on waitlist
Summary
Published Reviews
Booklist Review:
"Written with the skill of a veteran, Rosenfelt's debut legal thriller boasts fresh characters, an engaging narrator, and a plot that forces readers to keep flipping the pages. Andy Carpenter, a defense lawyer, takes on a new client: a man on death row, appealing his conviction for the murder of a woman nearly a decade ago. Andy takes the case as a favor to his father, the district attorney who originally prosecuted the inmate. When Andy's father dies, leaving him 22 million dollars and a 35-year-old photograph, Andy has some tough questions to answer. Where did his father get the money? Who are the men in the photograph? And could one of them have some connection with the murder for which Andy's client was convicted? Andy Carpenter is a welcome addition to the lawyer-as-sleuth roster; he's a charming and witty hero whose literary allusions and snarky asides keep us thoroughly entertained. In addition, the present-tense, diary-style narrative voice adds another layer of dramatic tension, because--as he's writing--Andy has no idea what's going to happen next. As soon as readers finish this remarkable first novel, they will begin clamoring for a second Andy Carpenter adventure. --David Pitt"
From Booklist, Copyright (c) American Library Association. Used with permission.
Publisher's Weekly Review:
"It's no surprise to find Harlan Coben giving a blurb to Rosenfelt's debut mystery, an homage to Coben's popular Myron Bolitar series. Like Bolitar, lawyer Andy Carpenter lives in suburban New Jersey, has strong bonds with his father, is a sports nut and has a refreshing lack of respect for wealth and power. Andy also has Myron's self-deprecating sense of humor, which allows him to make fun of his personal shortcomings. But Rosenfelt lacks both Coben's powerful narrative engine and gift for bringing weird minor characters to credible life. Andy, a flamboyant district attorney who dazzles the onlookers in Paterson with cute courtroom antics that probably wouldn't last a New York or L.A. minute, stumbles through a couple of plots that just don't ring true. When his father, Nelson, a straight-arrow DA, asks him to defend a death row rapist/murderer seeking a new trial, Andy reluctantly agrees. When the older man dies (spectacularly, at a Yankees game), a totally unexpected $22 million estate surfaces. On the side, Andy works to restart his failed marriage to an important politician's daughter while also pursuing his no-nonsense female chief investigator. Then Andy finds much too conveniently an old photograph linking his father and a bunch of boyhood friends to the original crime. We never learn enough about Nelson to understand or care about his guilt. Loose ends that a Coben would never have left to dangle undermine the ending. Hopefully, a more seasoned Rosenfelt will do better next time. (May 9) Forecast: Additional plugs from Donald E. Westlake and Margaret Maron, plus the author's status as former marketing president for Tri-Star Pictures, will ensure plenty of media attention for this Mystery Guild Featured Alternate. (c) Copyright PWxyz, LLC. All rights reserved"
(c) Copyright PWxyz, LLC. All rights reserved
Additional Information