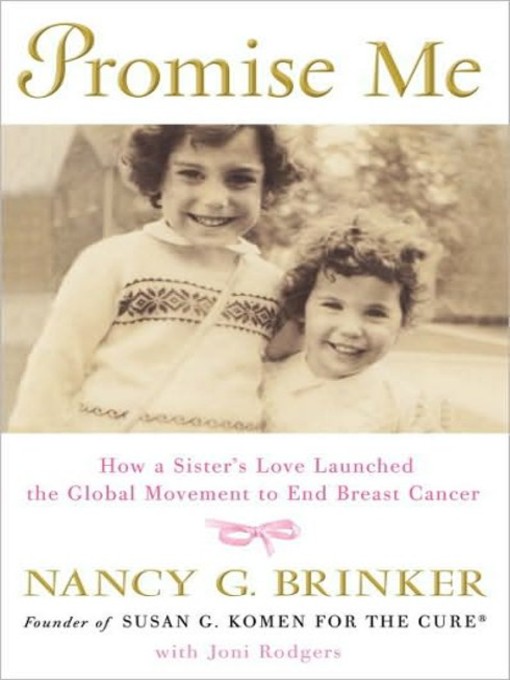 Promise me how a sister's love launched the global movement to end breast cancer
Format:

OverDrive MP3 Audiobook

2010

2010

OverDrive Listen

Availability:

Available from OverDrive

1 of 1 copy
Summary
Nancy G. Brinker shares how her sister's struggle with--and death from--breast cancer led her to promise to raise money for scientific research in the hopes of one day curing the disease.

Published Reviews
Booklist Review:
"In this compelling memoir, the 64-year-old founder of Susan G. Komen for the Cure mixes details from her soap opera-like life with facts about breast cancer. Nancy Goodman of Peoria, Illinois, morphs from a chubby Jewish girl (in second grade, she tips the scale at more than 100 pounds) to a nearly six-foot glamazon. After breast cancer kills her beautiful 36-year-old sister, Suzy, Nancy starts the world's largest breast-cancer charity in her memory. At age 37, she discovers a lump in her own chest. Nancy gets by with a little help from her second husband, Norman Brinker, the casual-dining gazillionaire and a member of the Susan G. Komen board from its inception in 1982 until his death last year. Cowritten with Joni Rodgers (author of the cancer memoir Bald in the Land of Big Hair, 2001), the book does take some liberties, and Nancy drops names (she spent time with Betty Ford and was a U.S. ambassador for George H. W. Bush and chief of protocol for George W.) and settles some scores. But readers will find much to admire.--Springen, Karen Copyright 2010 Booklist"
From Booklist, Copyright (c) American Library Association. Used with permission.
Publisher's Weekly Review:
"Both Nancy and Susan Goodman, born in the mid-1940s to a businessman and his community-active wife in Peoria, Ill., developed breast cancer, and Suzy died from it at age 36 in 1980. Although she'd had a subcutaneous mastectomy two years before, her doctor did not follow through with chemotherapy or radiation. On a deathbed promise to her sister, Nancy (now Brinker) vowed to bring breast cancer out in the open, force people to "talk about it," and find funding for a cure. In this deeply thoughtful, assertive, sensitive memoir of the sisters' growing up and devotion to each other in life and death, Brinker chronicles the long path she trod to create Susan G. Komen for the Cure. With her marriage in 1981 to conservative Texas millionaire Norman Brinker, Nancy recognized she had a "platform" on which to build a foundation. High-profile breast-cancer cases such as Betty Ford's, Nancy Reagan's, and numerous others highlighted the cause, and in separate chapters Brinker delineates background and personal stories. (Sept.) (c) Copyright PWxyz, LLC. All rights reserved."
(c) Copyright PWxyz, LLC. All rights reserved
Additional Information