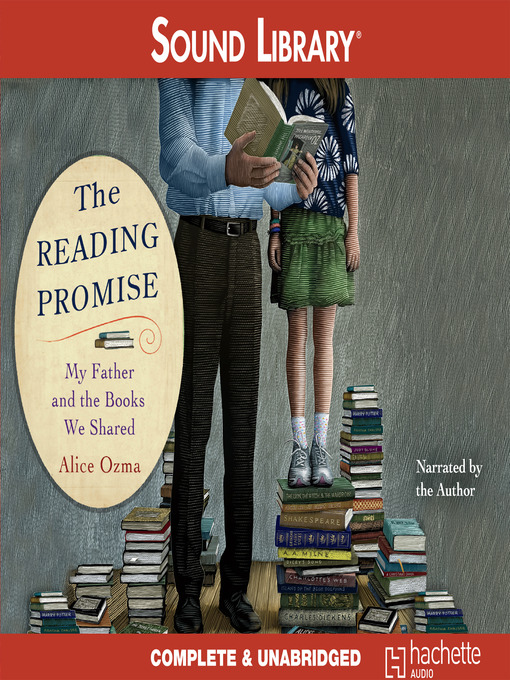 The reading promise my father and the books we shared
Format:

OverDrive MP3 Audiobook

2011

2011

OverDrive Listen

Availability:

Available from OverDrive

1 of 1 copy
Summary
Named for two literary characters ("Alice" from Lewis Carroll and "Ozma" from L. Frank Baum), the author is the daughter of a Philadelphia-area elementary school librarian. Father and daughter embarked on a streak of reading-out-loud sessions every night before bed as Ozma was growing up--a "streak" that would continue for eight years straight

Published Reviews
Booklist Review:
"*Starred Review* It started out as an ambitious, but achievable, task. A father would read to his nine-year-old daughter 100 nights in a row. Celebrating their victory over breakfast at their favorite greasy spoon, however, the daughter proposed a new challenge, one with a Scheherazadean twist. Why not read for 1,000 nights? But Jim Brozina and his daughter Alice didn't stop at 1,000, just like they didn't stop when Alice's mother ended the marriage, or when her older sister went abroad for a year, or when Jim caught the flu, or when Alice went to the prom. Only one thing could terminate their routine. When Jim moved Alice into her dorm room, some 3,218 nights later, The Streak, as they called it, came to an end. Not long out of college, Ozma has written a memoir as rich and revealing, witty and warm, confident and compassionate as works by people who may have been around a few more blocks, but who probably haven't read as many books. Persuasive and influential, poignant and inspirational, Ozma's exuberant paean to the joys and rewards of reading and being read to is a must-read treasure for parents, especially, and bibliophiles, certainly.--Haggas, Caro. Copyright 2010 Booklist"
From Booklist, Copyright (c) American Library Association. Used with permission.
Publisher's Weekly Review:
"Named for two literary characters ("Alice" from Lewis Carroll and "Ozma" from L. Frank Baum), the author is the daughter of a Philadelphia-area elementary school librarian. Father and daughter embarked on a streak of reading-out-loud sessions every night before bed as Ozma was growing up. At first they decided on 100 nights straight of reading before bed-a minimum 10 minutes, before midnight, every night, no exceptions-then it stretched to 1,000, and soon enough the author was headed to college and they had spent eight years straight reading before bedtime, from Oz stories to Shakespeare. Reading with her father offered a comforting continuity in the midst of her mother's disquieting move away from the family, her older sister's absence as a foreign exchange student, and the parsimoniousness of her single father. Ozma's account percolates chronologically through her adolescence, as father and daughter persevered in their streak of nightly reading despite occasional inconveniences such as coming home late, sleepovers (they read over the phone), and a rare case of the father's laryngitis. Ozma's work is humorous, generous, and warmly felt, and with a terrific reading list included, there is no better argument for the benefits of reading to a child than this rich, imaginative work. (May) (c) Copyright PWxyz, LLC. All rights reserved."
(c) Copyright PWxyz, LLC. All rights reserved
Additional Information