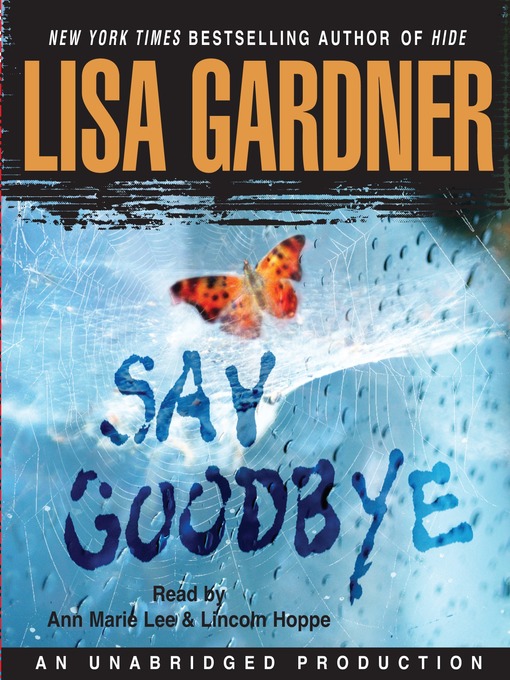 Say goodbye
Format:

OverDrive MP3 Audiobook

2008

2008

OverDrive Listen

Availability:

Unavailable

0 of 1 copy
Summary
Lisa Gardner, the New York Times bestselling author of Hide and Gone, draws us into the venomous mind games of her most terrifying killer yet. Come into my parlor ... For Kimberly Quincy, FBI Special Agent, it all starts with a pregnant hooker. The story Delilah Rose tells Kimberly about her johns is too horrifying to be true--but prostitutes are disappearing, one by one, with no explanation, and no one but Kimberly seems to care. Said the spider to the fly ... As a member of the Evidence Response Team, dead hookers aren't exactly Kimberly's specialty. The young agent is five months pregnant--she has other things to worry about than an alleged lunatic who uses spiders to do his dirty work. But Kimberly's own mother and sister were victims of a serial killer. And now, without any bodies and with precious few clues, it's all too clear that a serial killer has found the key to the perfect murder ... or Kimberly is chasing a crime that never happened.

Published Reviews
Booklist Review:
"In the latest Kimberly Quincy thriller, the FBI special agent is five months pregnant. Most women might be thinking about taking things a bit easy, but not Quincy: not only is she still working full time but she also stumbles into what might be the biggest case of her career (and, as regular readers know, she has already tackled a few big ones). A serial killer is targeting young women. This in itself isn't so unusual, but here's the twist: he is, or so it appears, using spiders as murder weapons. Kimberly is convinced she is on the trail of a psychopath, but without any bodies or hard evidence, she is having a difficult time convincing her superiors she isn't on a wild-goose chase. In her last few novels, especially Gone (2006) and the excellent Hide (2007), Gardner has really hit her stride, and this one, if not her best, will surely be a surefire hit for her fans and, in fact, for all readers who likes their thrillers suspenseful, fast paced, and just a little creepy (OK, a lot creepy).--Pitt, David Copyright 2008 Booklist"
From Booklist, Copyright (c) American Library Association. Used with permission.
Publisher's Weekly Review:
"In bestseller Gardner's engaging if highly disturbing 10th thriller, Delilah Rose is a Georgia prostitute familiar with pregnant FBI Special Agent Kimberly Quincy ("beautiful, brainy, and pedigreed") through Kimberly's well-publicized nabbing of the Eco-Killer in The Killing Hour (2003). Delilah asks the detective to investigate her friend Ginny Jones's possible abduction by a creepy-crawly john who calls himself Dinchara, an anagram of "arachnid." Delilah, however, turns out not to be who she claims she is, and her ties to the spider-obsessed killer are more complicated than she'll admit. As the missing persons count rises, some readers may have trouble keeping track of the time sequence amid the shifting points-of-view. Still, Gardner delivers a satisfying resolution in line with what her fans have come to expect: a suspenseful freak show wrapped up with a neatly tied bow. (July) (c) Copyright PWxyz, LLC. All rights reserved"
(c) Copyright PWxyz, LLC. All rights reserved
Additional Information