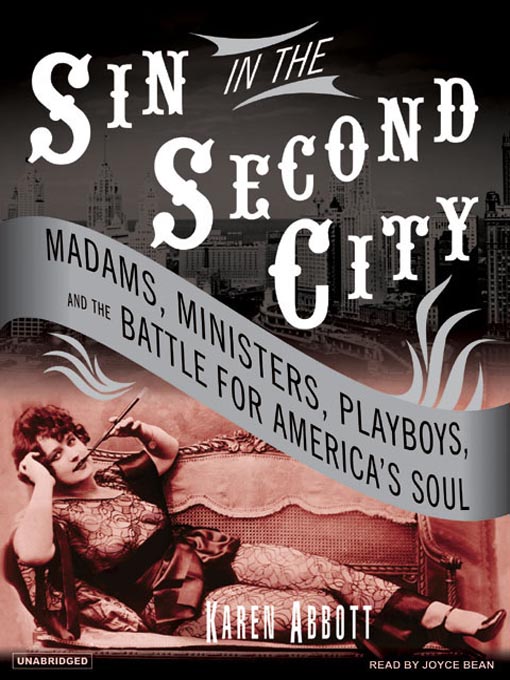 Sin in the Second City [madams, ministers, playboys, and the battle for America's soul]
Format:

OverDrive MP3 Audiobook

2007

2007

OverDrive Listen

Availability:

Available from OverDrive

1 of 1 copy
Summary
Step into the perfumed parlors of the Everleigh Club, the most famous brothel in American history---and the catalyst for a culture war that rocked the nation...

Published Reviews
Booklist Review:
""Chicago, the saying goes, ain't ready for reform. It certainly wasn't in 1899, when sisters Ada and Minna Everleigh (real name: Simms) opened their brothel. As Abbott's jaunty history relates, their whorehouse was not a tawdry bang barn for johns with a nickel but a glitzy palace of paid pleasure for plutocrats. Ada and Minna's Everleigh Club prospered, protected by payoffs to Chicago's legendary political crooks Bathhouse Coughlin and Hinky Dink Kenna, but the bordello's brazenness mobilized moralists alarmed by vice, so-called white slavery in particular. An entertaining read, by turns bawdy and sad, as when a courtesan ends up dead, Abbott's account extends beyond local history because the campaign against Ada and Minna had lasting national effects: the closure of urban red-light districts and the passage of the federal Mann Act concerning prostitution. Abbott adroitly evokes the cathouse atmosphere, but it is the rapier-sharp character sketches of the cast that best show off her authorial skills and will keep readers continually bemused as they learn about the lives and times of two madams."--"Taylor, Gilbert" Copyright 2007 Booklist"
From Booklist, Copyright (c) American Library Association. Used with permission.
Publisher's Weekly Review:
"Freelance journalist Abbott's vibrant first book probes the titillating milieu of the posh, world-famous Everleigh Club brothel that operated from 1900 to 1911 on Chicago's Near South Side. The madams, Ada and Minna Everleigh, were sisters whose shifting identities had them as traveling actors, Edgar Allan Poe's relatives, Kentucky debutantes fleeing violent husbands and daughters of a once-wealthy Virginia lawyer crushed by the Civil War. While lesser whorehouses specialized in deflowering virgins, beatings and bondage, the Everleighs spoiled their whores with couture gowns, gourmet meals and extraordinary salaries. The bordello-which boasted three stringed orchestras and a room of 1,000 mirrors-attracted such patrons as Theodore Dreiser, John Barrymore and Prussian Prince Henry. But the successful cathouse was implicated in the 1905 shooting of department store heir Marshall Field Jr. and inevitably became the target of rivals and reformers alike. Madam Vic Shaw tried to frame the Everleighs for a millionaire playboy's drug overdose, Rev. Ernest Bell preached nightly outside the club and ambitious Chicago state's attorney Clifford Roe built his career on the promise of obliterating white slavery. With colorful characters, this is an entertaining, well-researched slice of Windy City history. Photos. (July) (c) Copyright PWxyz, LLC. All rights reserved"
(c) Copyright PWxyz, LLC. All rights reserved
Additional Information