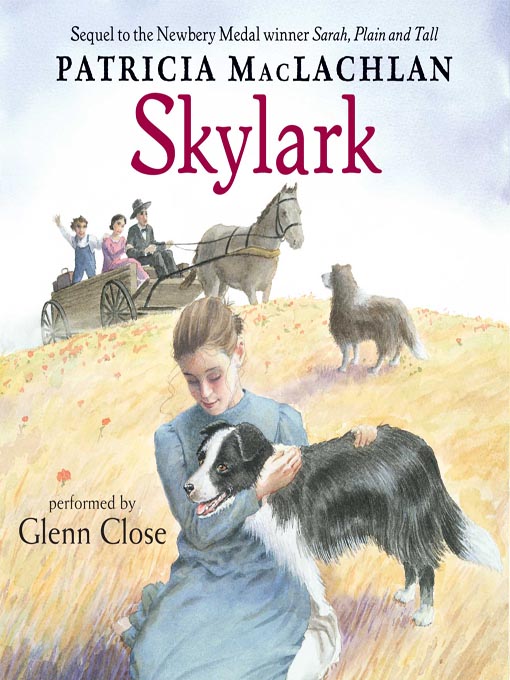 Skylark
Format:

OverDrive MP3 Audiobook

2008

2008

OverDrive Listen

Availability:

Unavailable

0 of 1 copy
Summary
When a drought tests the commitment of a mail-order bride from Maine to her new home on the prairie, her stepchildren hope they will be able to remain a family.

Published Reviews
Booklist Review:
"Gr. 4-6. This successful sequel to Sarah Plain and Tall (1985), which was recently televised, has enough dramatic tension and character development to satisfy devoted fans of the first book. Mail-order bride Sarah goes back east with children Anna and Caleb, leaving husband Jacob, whose name is "written in the land," to deal with their drought-ridden farm. Sarah's home in Maine makes a favorable impression on the children, but they miss their father and fear they will never return to the prairie. Finally, Jacob comes to fetch them home: "Papa looked at Sarah. `It rained,' he said. `I never thought you'd come,' whispered Sarah. `It rained,' said Papa again, his voice so soft it could have been the wind I heard." MacLachlan packs a lot into this spare tale and never diverges from the child's point of view, even when showing adult behavior. The happy result is emotional impact without cloying sentimentality. (Reviewed Jan. 1, 1994)0060233281Janice Del Negro"
From Booklist, Copyright (c) American Library Association. Used with permission.
Publisher's Weekly Review:
"The magnificent sequel to MacLachlan's Newbery-winning Sarah, Plain and Tall opens on a joyous note: ``Papa married Sarah on a summer day. There were no clouds in the sky, and Papa picked Sarah up in his arms and whirled her around and around, her white dress and veil surrounding him like the summer wind. Caleb was so excited and happy that he burst into tears. Everybody was happy.'' But the cloudless sky is not a good omen. A devastating drought descends on the prairie; Anna, the narrator, and her brother, Caleb, dream of rain, and the boy puts a glass out on the fence post to catch the drops when they fall. But none do. As wells dry up and neighbors move away, Sarah is increasingly on edge, not so firmly rooted as her husband, Jacob. She cries out that Jacob ``once said his name was written in this land, but mine isn't. It isn't!'' After the barn burns one night--struck by lightning, ironically unaccompanied by rain--Sarah takes the children to stay with her aunts in Maine. Though enchanted by the verdancy and the sea, Anna and Caleb miss the prairie terribly. And they all long to see Jacob again. He finally comes to Maine, with word that rain has fallen back home. Sarah has news, too: she expects a baby in the spring. When the family returns to the farm, Sarah takes a stick and writes her name in the dirt. Recalling the letters Jacob wrote to her before she first arrived on the prairie, Sarah tells Anna, ``I loved what was between the lines most.'' Indeed, there is a great deal found between the lines of MacLachlan's own writing, which so neatly presents a very real setting and enormously powerful characters, yet leaves spaces for readers to fill in as they like. This stirring novel's flawlessly crafted dialogue and imagery linger long after the final, hopeful message is delivered--by Caleb, who looks ahead to the spring, when flowers will return, the river will run again, and Sarah will have ``our baby.'' There are worlds in MacLachlan's words. Ages 8-10. 50,000 first printing. (Mar.) (c) Copyright PWxyz, LLC. All rights reserved"
(c) Copyright PWxyz, LLC. All rights reserved
Additional Information