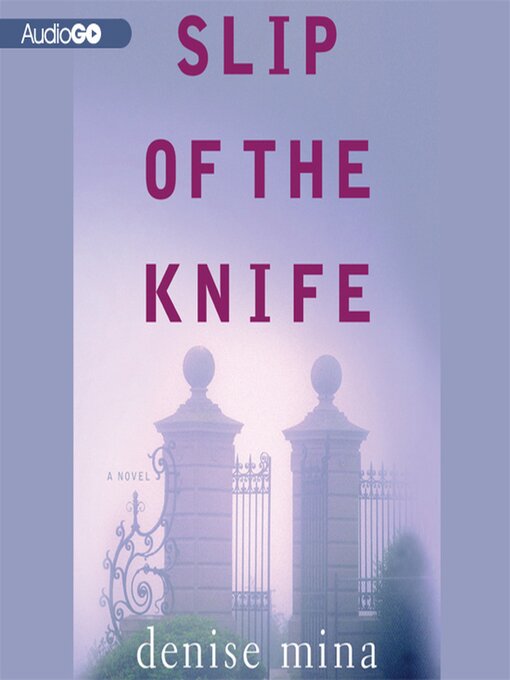 Slip of the knife a novel
Format:

OverDrive MP3 Audiobook

2008

2008

OverDrive Listen

Availability:

Available from OverDrive

1 of 1 copy
Summary
Paddy Meehan is no stranger to murder--as a reporter she lives at crime scenes--but nothing has prepared her for this visit from the police. Her former boyfriend and fellow journalist Terry Patterson has been found hooded and shot through the head. Paddy knows she will be of little help--she had not seen Terry in more than six months. So she is bewildered to learn that in his will he has left her his house and several suitcases full of notes. Drawn into a maze of secrets and lies, Paddy begins making connections to Terry's murder that no one else has seen, and soon finds herself trapped in the most important--and dangerous--story of her career.

Published Reviews
Booklist Review:
"*Starred Review* Scotland continues to produce a steady stream of superlative thriller writers. Mina captures the moody mood of the metropolis (her native Glasgow) with moxie and skill. Her heroine is newspaper columnist Patricia Paddy Meehan, who may be plump of figure but is all sharp edges when it comes to reporting the news. In this third in the series, Meehan is at a loss for her well-chosen words when former boyfriend and fellow journalist Terry Hewitt is found murdered, execution style. It's been months since Paddy has seen Terry (she's been breathlessly busy, with work and single-handedly raising a young son). So why in the world did he will her his house and endless armfuls of notes? Paddy's puzzlement approaches paranoia after she's visited by a pushy bloke with connections to the IRA, then followed by a strange little man in a tracksuit. Terry, it turns out, had been working with a photographer friend on a coffee-table book about Scottish expats. Soon after Terry's death, his collaborator is killed. The police insist neither slaying has any link to the IRA. Ever skeptical Paddy is not convinced. Mina, who also penned the award-winning Garnethill trilogy, serves up a suspenseful story line and psychologically complex characters, inhabitants of a gritty city where telling the truth can get you killed.--Block, Allison Copyright 2007 Booklist"
From Booklist, Copyright (c) American Library Association. Used with permission.
Publisher's Weekly Review:
"Set in 1990, Mina's superb third thriller to feature Paddy Meehan (after 2006's Edgar-finalist The Dead Hour) finds the Glaswegian journalist embroiled in the most politically charged and personal story of her career. When the corpse of Meehan's ex-lover, journalist Terry Hewitt, turns up in the countryside near Port Glasgow, everything points to an IRA execution. After Meehan discovers that Terry willed her his notes and a house in the country, she decides to investigate his murder. Distracted by the imminent parole of Callum Ogilvy-the young cousin of her ex-fiance convicted for his role in a child's murder in Field of Blood (2005)-Meehan soon realizes that everyone from the Scottish police to the IRA is intent on keeping the motive for Terry's death a secret. When Terry's colleague is killed and her own young son is threatened, Meehan knows she must uncover the men responsible before she becomes their next victim. This gripping read, with its intricate plotting and realistic regional dialogue, will leave even the most astute reader guessing until the end. (Feb.) (c) Copyright PWxyz, LLC. All rights reserved"
(c) Copyright PWxyz, LLC. All rights reserved
Additional Information