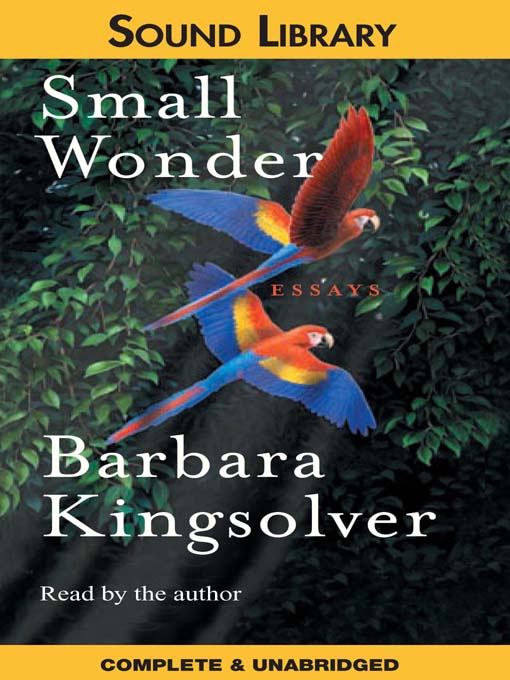 Small wonder
Format:

OverDrive MP3 Audiobook

2002

2002

OverDrive Listen

Availability:

Available from OverDrive

1 of 1 copy
Summary
In her new essay collection, the beloved author of Prodigal Summer moves from one of history's darker moments to present an extended love song to the world we still have. From its opening parable gleaned from recent news about a lost child saved in an astonishing way, the book moves on to consider a world of surprising and hopeful prospects. Small Wonder is a hopeful examination of the people we seem to be, and what we might yet make of ourselves.

Contents
Small wonder
Saying grace
Knowing our place
The patience of a saint
Seeing scarlet
Setting free the crabs
A forest's last stand
Called out
A fist in the eye of God
Lily's chickens
The one-eyed monster, and why I don't let him in
Letter to a daughter at thirteen
Letter to my mother
Going to Japan
Life is precious, or it's not
Flying
Household words
What good is a story?
Marking a passage
Taming the beast with two backs
Stealing apples
And our flag was still there
God's wife's measuring spoons.
Published Reviews
Publisher's Weekly Review:
"This book of essays by Kingsolver (The Poisonwood Bible, etc.) is like a visit from a cherished old friend. Conversation ranges from what Kingsolver ate on a trip to Japan to wonder over a news story about a she-bear who suckled a lost child to how it feels to be an American idealist living in a post-September 11 world. She tackles some sticky issues, among them the question of who is entitled to wave the American flag and why, and some possible reasons why our nation has been targeted for terror by angry fundamentalists and what we can do to ease our anxiety over the new reality while respecting the rest of planet Earth's inhabitants. Kingsolver has strong opinions, but has a gift for explaining what she thinks and how she arrived at her conclusions in a way that gives readers plenty of room to disagree comfortably. But Kingsolver's essays also reward her readers in other ways. As she puts it herself in "What Good Is a Story": "We are nothing if we can't respect our readers." Respect for the intelligence of her audience is apparent everywhere in this outstanding collection. Illus. (Apr. 20) Forecast: Kingsolver's name means bestseller potential, possibly aided by the possibility of revisiting the controversy she has aroused with her response to September 11. (c) Copyright PWxyz, LLC. All rights reserved"
(c) Copyright PWxyz, LLC. All rights reserved
Additional Information
Subjects
Essays
Nonfiction
Audiobooks.

Publisher

Ashland :Blackstone Publishing2002




2002



Edition
Unabridged.
Contributors
OverDrive, Inc.

Participants/Performers

Read by the author.




Barbara Kingsolver.



Language

English



System Details

Mode of access: World Wide Web.




Format: OverDrive WMA Audiobook




Requires OverDrive Media Console 1.0 / 1.0 (Windows Mobile)



Description

1 audio file : digital



ISBN
9780792743606
9780792743606

Other
Classic View