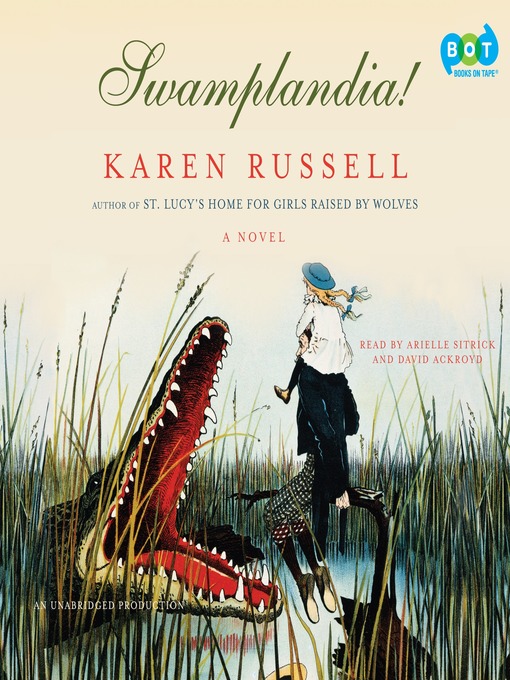 Swamplandia!
Format:

OverDrive MP3 Audiobook

2011

2011

OverDrive Listen

Availability:

Available from OverDrive

2 of 2 copies
Summary
Twelve year old Ava must travel into the Underworld part of the swamp in order to save her family's dynasty of Bigtree alligator wresting.

Published Reviews
Booklist Review:
"*Starred Review* Russell's lavishly imagined and spectacularly crafted first novel sprang from a story in her highly praised collection, St. Lucy's Home for Girls Raised by Wolves (2006). Swamplandia! is a shabby tourist attraction deep in the Everglades, owned by the Bigtree clan of alligator wrestlers. When Hilola, their star performer, dies, her husband and children lose their moorings, and Swamplandia! itself is endangered as audiences dwindle. The Chief leaves. Brother Kiwi, 17, sneaks off to work at the World of Darkness, a new mainland amusement park featuring the rings of hell. Otherworldly sister Osceola, 16, vanishes after falling in love with the ghost of a young man who died while working for the ill-fated Dredge and Fill Campaign in the 1930s. It's up to Ava, 13, to find her sister, and her odyssey to the Underworld is mythic, spellbinding, and terrifying. Russell's powers reside in her profound knowledge of the great imperiled swamp, from its alligators and insects, floating orchids and invasive strangler melaleuca trees to the tragic history of its massacred indigenous people and wildlife. Ravishing, elegiac, funny, and brilliantly inquisitive, Russell's archetypal swamp saga tells a mystical yet rooted tale of three innocents who come of age through trials of water, fire, and air.--Seaman, Donna Copyright 2010 Booklist"
From Booklist, Copyright (c) American Library Association. Used with permission.
Publisher's Weekly Review:
"Few novelists debut with as much hearty recommendation as Russell, a New Yorker 20-under-40 whose cunning first novel germinates a seed planted in her much-loved collection, St. Lucy's Home for Girls Raised by Wolves. We return to Swamplandia!, the once-thriving Florida tourist attraction where the Bigtree clan-Ava, Ossie, Kiwi, and the Chief-wrestles alligators. After the death of mother Hilola-the park's star alligator wrestler-Ava, the youngest Bigtree, takes her place in the spotlight while her sister, Ossie, elopes with a ghostly man named Louis Thanksgiving, and brother Kiwi winds up sweeping floors at Swamplandia!'s competition. Worst of all is the disappearance of the Chief, spurring Ava to embark upon a rescue mission that will take her from the Gulf of Mexico to the gates of hell, occasionally assisted by an unlikely extended family that includes the geriatric Grandpa Sawtooth, the Bird Man, and a tiny red alligator with the potential to save the park. Russell's willingness to lend flesh and blood to her fanciful, fantastical creations gives this spry novel a potent punch and announces an enthralling new beginning for a quickly evolving young author. (Feb.) (c) Copyright PWxyz, LLC. All rights reserved."
(c) Copyright PWxyz, LLC. All rights reserved
Additional Information