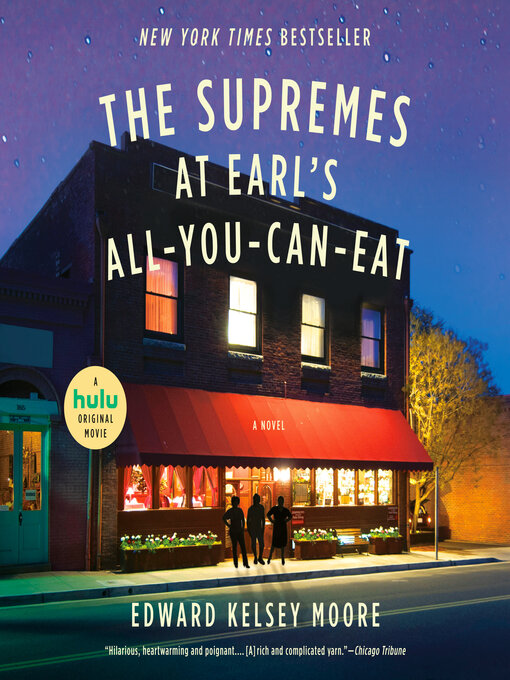 The Supremes at Earl's all-you-can-eat
Format:

OverDrive MP3 Audiobook

2013

2013

OverDrive Listen

Availability:

Unavailable

0 of 2 copies
1 person on waitlist
Summary
Told with wit, style, and compassion, this is the story of friendship among three women weathering the ups and downs of life in a small Midwestern town. When Odette, Clarice, and Barbara Jean meet as teenagers in the mid-sixties, the civil rights movement is moving along and so are their everyday lives. Their regular gathering place is Earl's All-You-Can-Eat diner, the first black-owned business in downtown Plainview, Indiana...

Published Reviews
Booklist Review:
"Odette, Clarice, and Barbara Jean have been close friends since girlhood, growing up in the 1960s in the southern Indiana town of Plainview. Their personalities and cool good looks earned them the name the Supremes when they'd meet regularly to eat at Earl's All-You-Can-Eat, with Big Earl keeping a watchful eye on them. Now in middle age, the Supremes meet regularly with their husbands for dinner at Earl's, now managed by his son. The aging Supremes and Earl's are institutions in a black community that has seen much progress since the 1950s, when the restaurant became the first black-owned business in a racially divided town. But the town as well as the women have also seen much trouble. Odette makes time in her busy life for the regular visitations of her dead mother, Clarice copes with the humiliation of an unfaithful husband, and Barbara Jean struggles to hide her drinking to assuage the death of her child. Moore intersperses episodes from the past with their current lives, showing their enduring friendship through good times and bad.--Bush, Vanessa Copyright 2010 Booklist"
From Booklist, Copyright (c) American Library Association. Used with permission.
Publisher's Weekly Review:
"The indefatigable trio of Barbara Jean, Clarice, and Odette (known as "The Supremes" since high school) churns the small community of Plainview, Indiana into a Southern-fried tailspin this debut from Moore, a professional cellist. Each of the central characters brings unique challenges to the tables at Earl's diner: Odette battles cancer while her pothead mother communicates with famous ghosts; Clarice tries to salvage a crumbling marriage with her cheating husband; and beautiful Barbara Jean, who married for money, drinks to forget a youthful affair and her dead son. In a booth at Earl's All-You-Can-Eat, a short walk from Calvary Baptist Church, these women lay bare their passions, shortfalls, and dramas. Clarice's cancer treatment brings them together in melancholy, but it isn't long before secrets are revealed and the scramble to catch up on lost time begins. Despite meandering points-of-view and a surplus of exposition, Moore is a demonstrative storyteller and credits youthful eavesdropping for inspiring this multifaceted novel. Comparisons to The Help and Fried Green Tomatoes at the Whistle Stop Cafe are inevitable, but Moore's take on this rowdy troupe of outspoken, lovable women has its own distinctive pluck. Barney Karpfinger, the Karpfinger Agency. (Mar.) © Copyright PWxyz, LLC. All rights reserved."
Additional Information