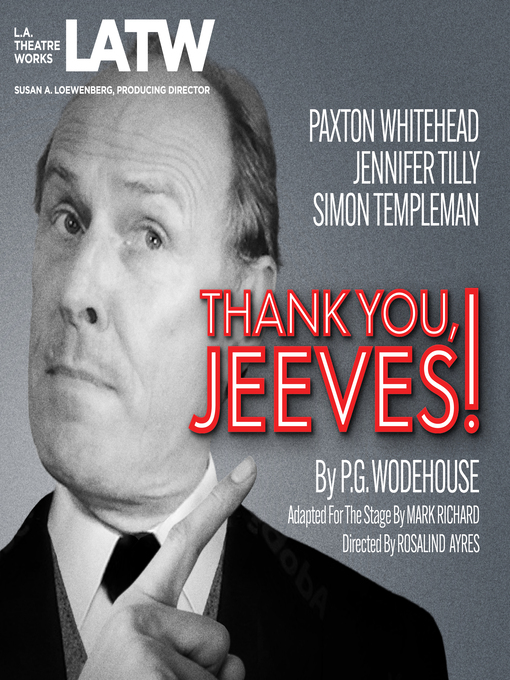 Thank you, Jeeves
Format:

OverDrive MP3 Audiobook

1997

1997

OverDrive Listen

Availability:

Unavailable

0 of 1 copy
Summary
A delightful British comedy from the wonderful world of Wodehouse! The perpetually misguided Bertie finds himself embroiled in a madcap adventure sparked by the abrupt departure of his beloved Jeeves. Featuring 'Hizzoner' Richard Riordan as blustering American millionaire J. Washburn Stoker.

Published Reviews
Publisher's Weekly Review:
"Like a comic novelist Nostradamus, Wodehouse seems to have aimed his prologue at an audiobook audience 74 years after this first full-length Bertie-and-Jeeves novel was written. He begins by enumerating the pitfalls of "writing" the book through dictation and gives us a Victor Borgeian demo: "Quote No comma Lord Jasper Murgatroyd comma close quote said. No, better make it hissed Evangeline comma quote I would not marry you if you were the last man on earth close quote period." Nicolas Coster is a genuine joy to listen to, both as Wodehouse and his silly cast of characters. He plays Jeeves's sublime interactions with Bertie and his colleagues in the manner of a true gentleman's gentleman: with cool bemusement and calm. When chaos ensues, Coster's proper British manner makes everything even funnier. (Sept.) (c) Copyright PWxyz, LLC. All rights reserved"
(c) Copyright PWxyz, LLC. All rights reserved
Additional Information