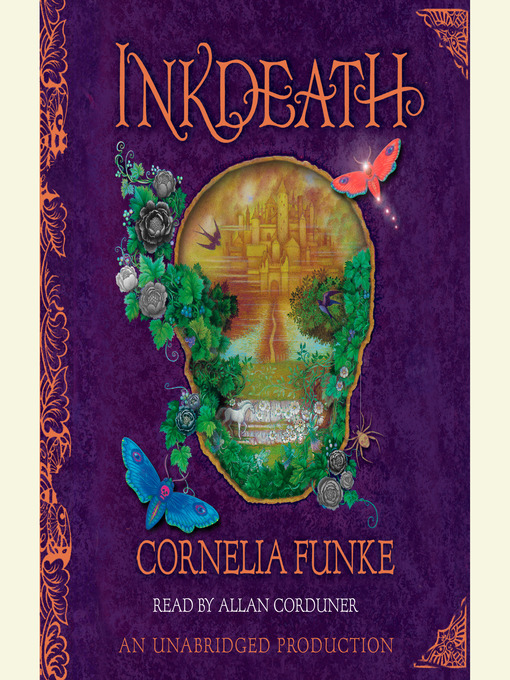 Inkdeath
Format:

OverDrive MP3 Audiobook

2008

2008

OverDrive Listen

Availability:

Available from OverDrive

1 of 2 copies
Summary
Caught between the covers of a cursed story… Ever since the extraordinary events of Inkspell, when the enchanted book Inkheart drew Meggie and her father, Mo, into its chapters, life in the Inkworld has been more tragic than magical. Dustfinger is dead, having sacrificed his life for his apprentices, and now, under the rule of the evil Adderhead, the fairy-tale land is in bloody chaos, its characters far beyond the control of Fenoglio, their author...

Published Reviews
Booklist Review:
"Funke completes the trilogy that began with Inkheart (2003) in this long, eventful novel. Although the scene frequently shifts from one set of characters to another, there is rarely any relief from the sense of encroaching menace that takes many different forms. The unusually large cast is helpfully identified for readers in the appended eight-page, cross-referenced list of characters and places in the trilogy. Though some of the violent scenes are not for the fainthearted, readers who loved the detailed world building and the adventure in the earlier books will probably enjoy this one as well. Still, others will find it less satisfying than its predecessors. From the initial premise of a bookbinder who reads aloud so beautifully that he can draw a story's characters out of the pages and into his own world, the earlier volumes were booklovers' books. This one seems more plot driven, or perhaps driven by the necessity of bringing so many intertwined stories to a satisfying conclusion.--Phelan, Carolyn Copyright 2008 Booklist"
From Booklist, Copyright (c) American Library Association. Used with permission.
Publisher's Weekly Review:
"This concluding volume in Funke's bestselling trilogy picks up where Inkspell left off, but sputters for a hundred pages filling in backstory. (Even then, an addendum is needed to identify a cast of 114 characters.) The Inkworld, full of dark magic, is under siege; the savagery of the Adderhead and his minions now extends to taking all the peasants' children until somebody delivers, as ransom, the Bluejay, a Robin Hood-style character whose identity has been assumed by Mo, Meggie's father (it was Mo who started all the trouble by reading several villains right out of the book-within-a-book, Inkheart--don't even consider reading this series out of order). The Inkheart author, Fenoglio, now living in Inkworld himself, has turned to drink; the odious Orpheus, when he's not under a maid's skirt, rewrites Fenoglio's work (editors!) to benefit himself. The interesting metafictional questions--can we alter destiny? shape our own fate?--are overwhelmed by the breakneck action, yet the villains aren't fully realized. More disappointingly, the formerly feisty Meggie, barely into her teens, has little to do but choose between two suitors. Funke seems to have forgotten her original installment was published for children. Ages 9-up. (Oct.) (c) Copyright PWxyz, LLC. All rights reserved"
(c) Copyright PWxyz, LLC. All rights reserved
Additional Information