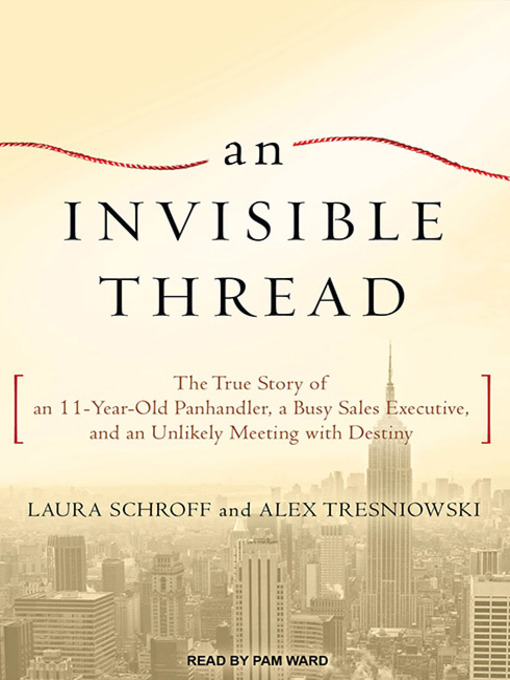 An invisible thread the true story of an 11-year-old panhandler, a busy sales executive, and an unlikely meeting with destiny
Format:

OverDrive MP3 Audiobook

2011

2011

OverDrive Listen

Availability:

Unavailable

0 of 1 copy
1 person on waitlist
Summary
The true story of the bond between a harried sales executive and an eleven-year-old boy who seemed destined for a life of poverty. It is the heartwarming story of a friendship that has spanned three decades and brought meaning to an over-scheduled professional and hope to a hungry and desperate boy living on the streets.

Contents
Foreword / by Valerie Salembier
Introduction
Spare change
The first day
One good break
The birthday present
The baseball glove
Is that it?
A mother's song
A father's legacy
The brown paper bag
The big table
The missed appointment
Outside looking in
Bittersweet miracle
A simple recipe
The new bicycle
The winter coat
The dark forest
One last test
The greatest gift
Epilogue: Love, Maurice.
Published Reviews
Publisher's Weekly Review:
"According to an old Chinese proverb, there's an invisible thread that connects two people who are destined to meet and influence each other's lives. With Tresniowski (The Vendetta), Schroff tells how, as a busy advertising sales executive in New York, she easily passed panhandlers every day. One day, 11-year-old Maurice's plea for spare change caused Schroff to turn around and offer to buy him lunch. Thereafter, Schroff and Maurice met for dinner each week and slowly shared their life stories. Maurice's tales about his crack addict mother, absent father, and array of drug-dealing uncles were only part of his desperate longing for a life in a safe neighborhood in an apartment with more than one room. As they grow to depend on each other, Maurice asks Schroff to attend his school's parents' night, where his teacher asks Schroff not to abandon the boy. In some weeks, the meals they share become some of the few he has, because any money his mother might "earn" goes to her habit. As Schroff relates Maurice's story, she tells of her own father's alcoholism and abuse, and readers see how desperately these two need each other in this feel-good story about the far-reaching benefits of kindness. (Nov.) © Copyright PWxyz, LLC. All rights reserved."
Additional Information