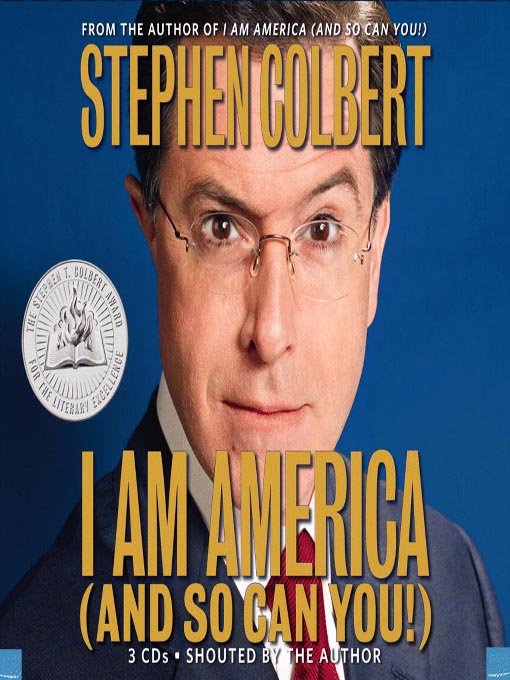 I am America (and so can you!)
Format:

OverDrive MP3 Audiobook

2007

2007

OverDrive Listen

Availability:

Unavailable

0 of 1 copy
Summary
What The daily show is to evening news, The Colbert report is to personality-driven pundit shows. Colbert brings his sarcastic charm to a half-hour report, tackling the important issues of the day and telling his guests why their opinions are just plain wrong. Stephen stands for truthiness and his American right to copyright that word and claim ownership of it. Stephen Colbert describes his audiobook as a simple audiobook from a simple mind--Stephen Colbert ... In plain conversational language, not to mention the occasional grunt and/or whistle, Stephen explains his take on the most pressing concerns of our culture: faith, family ... hygiene. Why now? Stephen fears America has lost its balls and he hopes to re-ballify us. Even the ladies. Ladies can have balls--lady-balls too. Stephen likes to call those "Thatchers." Stephen will show how he got his mammoth swinging sack, with tales of courage and vital documents from his own life: the Mother's Day card he made at age six, disputed credit card bills, putt-putt score cards--all the major milestones.

Published Reviews
Publisher's Weekly Review:
"Realizing that "it takes more than thirty minutes a night to fix everything that's destroying America," Colbert bravely takes on the forces aligned to destroy our country-"whether they be terrorists, environmentalists, or Kashi brand breakfast cereals." His various targets include nature ("I've never trusted the sea. What's it hiding under there?"), the Hollywood Blacklist ("I would have named enough names to fill the Moscow phone book"), and atheists ("Imagine going through life completely duped into thinking that there's no invisible, omniscient higher power guiding every action on Earth. It's just so arbitrary!"). Colbert also provides helpful illustrations and charts ("Things That Are Trying to Turn Me Gay"), a complete transcript of his infamous speech at the 2006 White House Correspondents' Dinner, and a special "Holiday" DVD, all of which add up to a book that is sure to be a bestseller and match the success of Colbert's former Daily Show boss Jon Stewart's America (The Book). (Oct.) (c) Copyright PWxyz, LLC. All rights reserved"
(c) Copyright PWxyz, LLC. All rights reserved
Additional Information
Subjects
Comedians United States
Social values United States Humor
Political culture United States Humor
Political satire, American
American wit and humor
Television personalities United States
Humor (Nonfiction)
Nonfiction
Politics
United States Politics and government 2001-2009 Humor.
Audiobooks.
2001-2009

Publisher

New York :Hachette Audio2007




2007



Contributors
Dinello, Paul.
Dorff, Kevin.
Hollimon, Greg, 1956-
McGee, Evie.
Pasquesi, David.
Silverman, Allison.
Stack, Bryan.
Stewart, Jon, 1962-
OverDrive, Inc.

Participants/Performers

Read by Paul Dinello, Kevin Dorff, Greg Hollimon, Evie McGee, David Pasquesi, Allison Silverman, Bryan Stack, Jon Stewart.




Stephen Colbert.



Language

English



System Details

Mode of access: World Wide Web.




Format: OverDrive MP3 Audiobook




Format: OverDrive WMA Audiobook




Requires OverDrive Media Console 3.0 (Windows) / 1.0 (Mac) / 1.0 (Windows Mobile) or OverDrive Media Console 1.0 / 1.0 (Windows Mobile)



Description

1 audio file : digital



ISBN
9781600240379
9781609411008

Other
Classic View