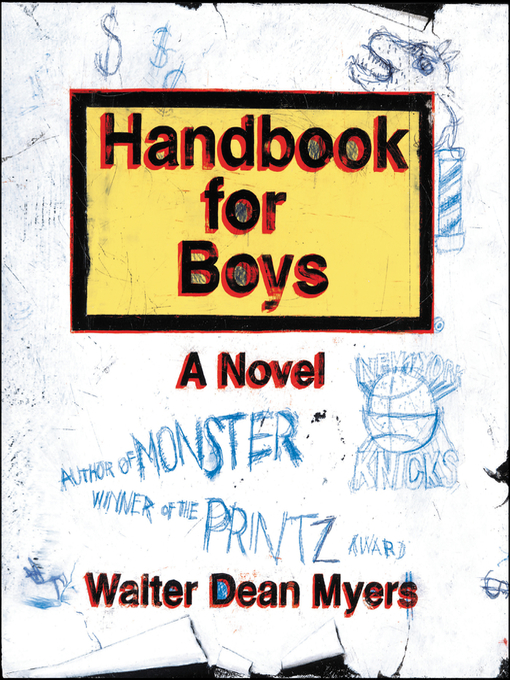 Handbook for boys [a novel]
Format:

OverDrive MP3 Audiobook

2005

2005

OverDrive Listen

Availability:

Available from OverDrive

1 of 1 copy
Summary
Growing up is tough ... really tough. But what if you had a handbook that told you how to figure things out? How to stay out of trouble? How to think about success? How to think about the guy on the street? At Duke's Place, Jimmy and Kevin find out that the handbook isn't written down. It means listening to Duke and his friends talk about their lives. But how can Duke, a senior citizen, understand what it is to be young now?

Published Reviews
Publisher's Weekly Review:
"Returning to the setting for his 145th Street: Short Stories, Myers (Monster) constructs a penetrating profile of a community through the brief appearances of characters who file through Duke Wilson's barbershop. The author juxtaposes a sketch of 16-year-old narrator Jimmy Lynch's home life with nuggets of wisdom delivered by the barber with wit and tact. As the novel opens, Jimmy is about to be assigned to a youth facility for six months, until Duke offers to take him into his "community mentoring program." Initially Jimmy and Kevin, another teen whom Duke mentors, call the shop the "Torture Chamber." But as Jimmy shows up to the shop day after day at 3:30 p.m. to sweep, hang old photographs on the wall and polish spitoons, his anger and resistance erode and he begins to absorb Duke's advice. Organized into chapters with titles as straightforward as "Victims" (featuring a man who is evicted and whose marriage is in trouble because he "just go[es] from day to day to see what event [he] stumble[s] into," in Duke's words) and as humorous as "The Blind Monkey Strut" and "Froggy Goes A Courting," the novel introduces various customers from ex-cons to a millionaire who demonstrate specific life lessons. Jimmy's change in attitude is gradual and credible, and his tenuous friendship with Kevin takes an unexpectedly poignant turn when Kevin falls back into trouble. The author's instructional prefatory note may be offputting, but once inside the book, readers will be hooked. Ages 10-up. (May) (c) Copyright PWxyz, LLC. All rights reserved"
(c) Copyright PWxyz, LLC. All rights reserved
Additional Information