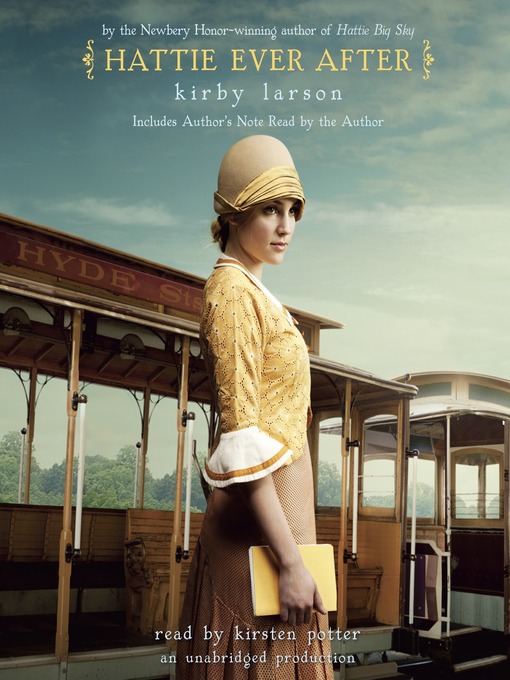 Hattie ever after
Format:

OverDrive MP3 Audiobook

2013

2013

OverDrive Listen

Availability:

Available from OverDrive

1 of 1 copy
Summary
After leaving Uncle Chester's homestead claim, orphan Hattie Brooks throws a lasso around a new dream, even bigger than the Montana sky. She wants to be a reporter, knowing full well that a few pieces published in the Arlington News will not suffice. Real reporters must go to Grand Places, and do Grand Things, like Hattie's hero Nellie Bly. Another girl might be stymied by this, but Hattie has faced down a hungry wolf and stood up to a mob of angry men. Nothing can squash her desire to write for a big city newspaper. A letter and love token from Uncle Chester's old flame in San Francisco fuels that desire and Hattie jumps at the opportunity to get there by working as a seamstress for a traveling acting troupe. This could be her chance to solve the mystery of her "scoundrel" uncle and, in the process, help her learn more about herself. But Hattie must first tell Charlie that she will not join him in Seattle. Even though her heart approves of Charlie's plan for their marriage, her mind fears that saying yes to him would be saying no to herself. Hattie holds her own in the big city, literally pitching her way to a byline, and a career that could be even bigger than Nellie Bly's. But can making headlines compensate for the pain of betrayal and lost love? Hattie must dig deep to find her own true place in the world.

Published Reviews
Booklist Review:
"Readers first met Hattie Brooks in the Newbery Honor Book Hattie Big Sky (2006). Now Hattie has left Montana for San Francisco, hoping she can somehow find a way to become a newspaper reporter. In quick succession, Hattie works as seamstress for a vaudeville troupe, a char woman at the San Francisco Chronicle, and then becomes a researcher there as she finds ways and people to help her work her way up the ladder. One of the best parts about this is the way Larson brings San Francisco, circa 1919, alive especially the opportunities and stumbling blocks for women. Less successful are a few of the plot points, including the introduction of a scammer, who seemingly spends more money on Hattie than the small change she is able to swindle from her. But fans of the first book will be thrilled to see the ups and downs of Hattie's romance with old boyfriend Charlie, while her relationship with another fellow leads to an interesting twist. This is reminiscent of Maude Hart Lovelace's later Betsy books, whose heroine also wanted to write. And that's high praise.--Cooper, Ilene Copyright 2010 Booklist"
From Booklist, Copyright (c) American Library Association. Used with permission.
Publisher's Weekly Review:
"This sequel to Hattie Big Sky, set in the early 20th century, sees young Hattie taking a chance and traveling to San Francisco to follow her dream of becoming a newspaper reporter. In doing so, she struggles both with her heart-because it means leaving behind the man who wants to marry her-and with the difficulty of proving herself in a field dominated by men. Kristen Potter ably portrays Hattie, conveying her emotions-particularly her terror when she takes a wild ride in a small plane, and her pain when a friend betrays her trust. Potter also creates character-distinctive voices, such as a cleaning woman's Irish lilt and a detective's French accent. Fans of the previous installment will enjoy Hattie's further adventures, as will anyone interested in getting a glimpse at life in the early 20th century. Ages 10-up. A Delacorte hardcover. (Feb.) (c) Copyright PWxyz, LLC. All rights reserved."
(c) Copyright PWxyz, LLC. All rights reserved
Additional Information