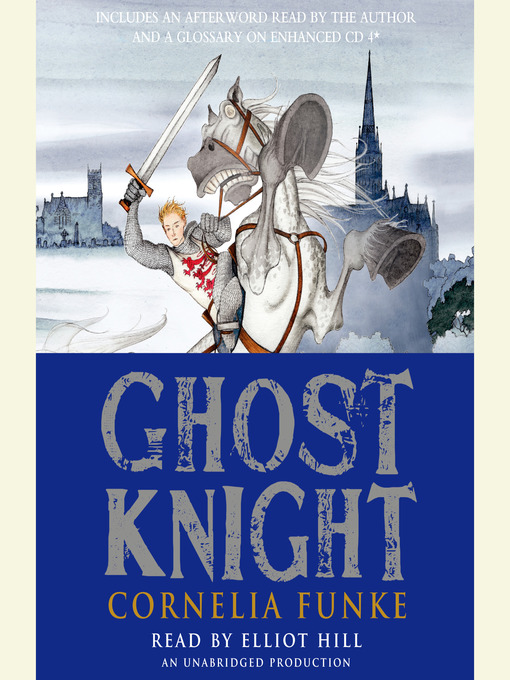 Ghost knight
Format:

OverDrive MP3 Audiobook

2012

2012

OverDrive Listen

Availability:

Available from OverDrive

1 of 1 copy
Summary
Eleven-year-old Jon Whitcroft and new friend Ella summon the ghost of Sir William Longspee, who may be able to protect Jon from a group of ghosts that threatens him harm from the day he arrives at Salisbury Cathedral's boarding school. Includes historical notes.

Published Reviews
Booklist Review:
"Sent to his late father's boarding school in nearby Salisbury, England, 11-year-old Jon sees the change as banishment, or possibly punishment for his antagonism toward Mum's boyfriend (aka the Beard). Jon initially wallows in homesickness, self-pity, and hatred of the Beard, but these preoccupations are dwarfed by his terror when he is hounded by murderous ghosts bent on ancestral revenge. With the help of his classmate Ella, Jon hides in Salisbury Cathedral at night and raises the ghost of a medieval knight to defend him. Funke uses her storytelling skills to create an exciting narrative while juxtaposing Jon's problems at home with his new life at school and the ghostly reality around him. Though the story occasionally relies on coincidence, readers will happily suspend disbelief to follow Jon's expeditions to Stonehenge, a cemetery after dark, a haunted abbey, and a medieval battlefield. The many black-and-white drawings, though not seen in final form, capture the spirit of the story and intensify its drama, wit, and charm. HIGH-DEMAND BACKSTORY: Funke's legion of fans are always interested in what she is up to. Her middle-grade audience will be pleased she is turning her attention back to them.--Phelan, Carolyn Copyright 2010 Booklist"
From Booklist, Copyright (c) American Library Association. Used with permission.
Publisher's Weekly Review:
"When he's sent away to boarding school, Jon Whitcroft isn't too happy about it-and that's before he starts seeing ghosts and the ghosts start seeing him. But when the ghosts begin to plot against Jon, the only person he can turn to his newfound friend Ella. Now Jon and Ella must investigate an ancient murder and summon the ghost of Knight Longspee. Elliot Hill narrates in a crisp British accent that certainly makes listening enjoyable. He captures Jon's tone and attitude throughout and deftly embodies the angst and frustration of the reticent youth. Additionally, Hill creates a host of unique voices for the book's assorted characters and transitions well between prose and dialogue. And while the voices he lends the female characters are less varied, they remain believable and appropriate. Ages 8-12. A Little, Brown hardcover. (May) (c) Copyright PWxyz, LLC. All rights reserved."
(c) Copyright PWxyz, LLC. All rights reserved
Additional Information