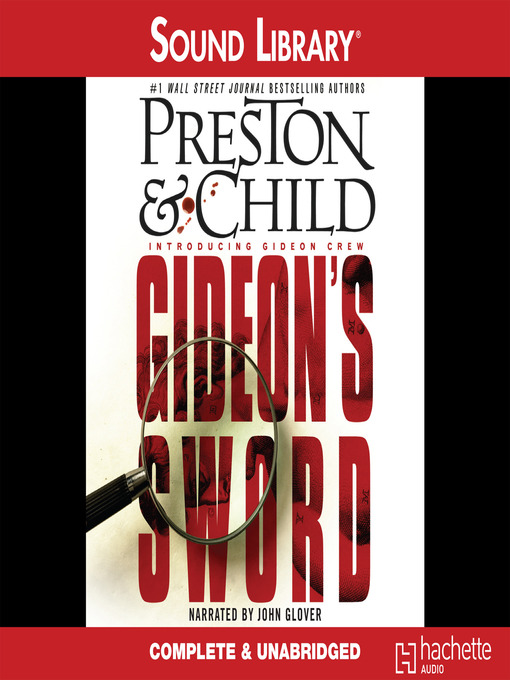 Gideon's sword
Format:

OverDrive MP3 Audiobook

2011

2011

OverDrive Listen

Availability:

Available from OverDrive

1 of 2 copies
Summary
As a boy, Gideon Crew witnessed his father's execution. Now, knowing his father was falsely accused of treason and murdered as part of a callous plot, Gideon plots his revenge. However, Gideon is being watched by someone who needs his skills for a special operation.

Published Reviews
Booklist Review:
"Gideon Crew, the hero of Preston and Child's new novel, has a complicated backstory. As a boy, he watched as his father, who had taken a man hostage, was shot down by a sniper. Less than a decade later, he learned from his mother that his father had been used by the U.S. government as a scapegoat for a failed intelligence project. After dispatching the man responsible for his father's murder, Gideon is offered a job with a private contractor that does hush-hush work for the government. Gideon's mission: to intercept a Chinese scientist and relieve him of the plans for a top-secret weapon. The mission doesn't go as drawn, however, and Gideon is left with a mysterious string of numbers. Now, working mostly alone, he must determine what the numbers mean. This novel (which is apparently the first installment in a new series) isn't as elegantly written or constructed as the authors' popular Special Agent Pendergast novels, but it does once you get past the backstory hold the reader's interest, and Gideon is undeniably a big-shouldered character, capable of supporting a series.--Pitt, David Copyright 2010 Booklist"
From Booklist, Copyright (c) American Library Association. Used with permission.
Publisher's Weekly Review:
"John Glover's hard-edged, slightly sinister voice (familiar to fans of television's Smallville) sustains Preston and Child's entertaining but slight thriller. In this installment, Gideon Crew, whom Glover imbues with more depth and humanity than the text itself suggests, is seeking revenge for the murder of his father, an Army intelligence officer. But he's interrupted in his mission, conscripted by a clandestine agency to perform a near-suicidal task: to steal the plans for a Chinese WMD. Crew exhibits extreme versatility in accomplishing his task, for when it comes to an impossible mission successfully performed, a better example is the way Glover adds dimension to the novel's cardboard characters and vitality to its overly long backstory. A Grand Central hardcover. (Mar.) (c) Copyright PWxyz, LLC. All rights reserved."
(c) Copyright PWxyz, LLC. All rights reserved
Additional Information