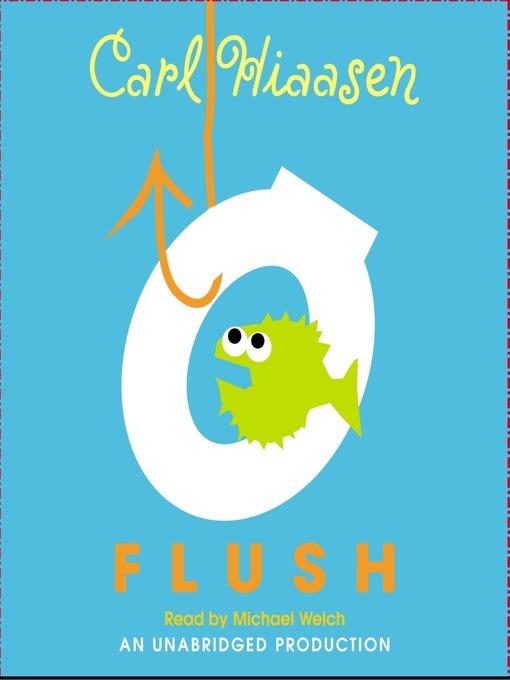 Flush
Format:

OverDrive MP3 Audiobook

2006

2005

OverDrive Listen

Availability:

Unavailable

0 of 1 copy
3 people on waitlist
Summary
You know it's going to be a rough summer when you spend Father's Day visiting your dad in the local lockup. Noah's dad is sure that the owner of the Coral Queen casino boat is flushing raw sewage into the harbor -- which has made taking a dip at the local beach like swimming in a toilet. He can't prove it though, and so he decides that sinking the boat will make an effective statement. Right. The boat is pumped out and back in business within days and Noah's dad is stuck in the clink. Now Noah is determined to succeed where his dad failed. He will prove that the Coral Queen is dumping illegally...somehow. His allies may not add up to much -- his sister Abbey, an unreformed childhood biter; Lice Peeking, a greedy sot with poor hygiene; Shelly, a bartender and a woman scorned; and a mysterious pirate -- but Noah's got a plan to flush this crook out into the open. A plan that should sink the crooked little casino, once and for all

Published Reviews
Booklist Review:
"Gr. 5-8. Hiaasen's second novel exhibits some of the same elements found in his 2003 Newbery Honor Book: Florida local color, oddball adults (buxom and brawny), and a delightful quirkiness. But the sparkle that catapulted Hootinto the limelight isn't quite as brilliant here. Even so, there's plenty to like in this yarn, which, once again, drops an environmental issue into the lap of a kid. Righteous indignation, usually resulting from some sabotage of Florida's natural resources, has gotten Noah Underwood's dad in trouble before. This time, however, Dad's gone too far: he sunk a floating casino. Why? Its owner is dumping human waste in the water. Unfortunately, Dad can't prove it, and that's where Noah and his younger sister, Abbey, come in. The amateur sleuthing puts the sibs into some mildly suspenseful, occasionally amusing, situations, which, as in the previous book, share space with run-ins with a local bully (Noah takes some lumps but gets sweet revenge). An old-fashioned deus ex machina interrupts an otherwise believable setup, but Hiaasen still succeeds at relating an entertaining story while getting across a serious message about conservation and the results of just plain greed. --Stephanie Zvirin Copyright 2005 Booklist"
From Booklist, Copyright (c) American Library Association. Used with permission.
Publisher's Weekly Review:
"How does Hiaasen follow up his page-turning novel about saving owls in Florida (Hoot)? With a second fast-paced story featuring an environmental theme-this time about ocean pollutants harming turtles' habitats (and the surroundings in general) in the Florida Keys. Welch (TV's Joan of Arcadia) has a compelling, snappy delivery suited to 11-year-old Noah's personality; he's a clever kid who wants to set things right, even when it pits him against shady characters and the local bully. Noah is exasperated over his father's arrest for sinking a casino boat that the man believes is flushing sewage into the ocean. The boy also knows that proving his dad's suspicions could go a long way toward healing his strained family and saving the ocean. Welch handily captures Noah's moods, though not even he can make eccentrics such as Lice Peeking and his burly bartending girlfriend Shelly likable at the outset (they grow on listeners, however). Those who couldn't get enough of Hiaasen's last outing will find plenty to hoot about in this solid recording. Ages 10-up. (Sept.) (c) Copyright PWxyz, LLC. All rights reserved"
(c) Copyright PWxyz, LLC. All rights reserved
Additional Information