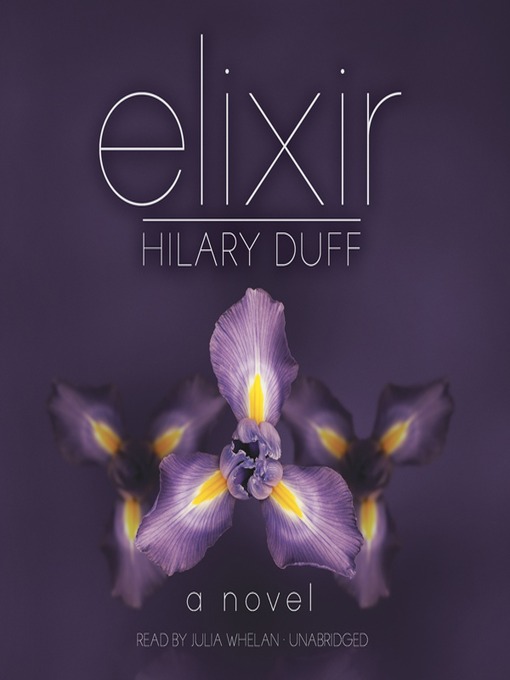 Elixir
Format:

OverDrive MP3 Audiobook

2010

2010

OverDrive Listen

Availability:

Available from OverDrive

1 of 1 copy
Summary
Clea Raymond, a talented young photojournalist who has spent her life in the spotlight, and her best friends, Rayna and Ben, travel the globe trying to unravel a centuries-old mystery that could reveal her soulmate's identity and the secret of her father's disappearance.

Published Reviews
Booklist Review:
"Seventeen-year-old Clea, the daughter of a senator and a famed surgeon, is a paparazzi magnet, photojournalist, and world traveler. Things change when she notices a handsome, timeless young man in her vacation pictures. Even more unsettling, in some photos he seems to float, and the specter soon haunts her dreams as well. Vivid visions of past lives with this man make Clea curious and lead her to the jungles of Brazil, where her father has gone missing while on a search for the elixir of life. Whether readers are drawn to this because of Duff's Lizzie McGuire fame or are taken in by the surprisingly solid premise, they may be disappointed by the authors' execution. The love between Clea and her mystery man, Sage, never quite reaches believability, and overall, the story reads like a friend's hasty rehashing of a movie plot. The abridged nature of the narration also suffers from more telling than showing. However, with its paranormal-romance angle and celebrity coauthor, this title will still be in demand.--Jones, Courtney Copyright 2010 Booklist"
From Booklist, Copyright (c) American Library Association. Used with permission.
Publisher's Weekly Review:
"Disney and pop star Duff's first novel is a largely predictable paranormal love story, breathlessly narrated by Clea, a homeschooled senior and photojournalist, who travels the world on photo shoots. Clea is recovering from her surgeon/humanitarian father's disappearance and presumed death a year ago, after he funded a dig for ancient vials of the elixir of life in Brazil. But when a sexy stranger starts appearing in her photos, Clea is suddenly barraged by dreams of past lives, loving this same man in each one. When she shows the photographs to her cute friend/bodyguard-of-sorts, Ben, he reveals that this stranger has been appearing in family photos since she was a baby. Clea and Ben meet the stranger, Sage, in Brazil, and all three head to Japan, following in the footsteps of Clea's father. Two groups desperate for the elixir are pursuing Sage, and tensions (and the love triangle) heat up as enemies close in. Clea is a likable though unmemorable heroine, and the writing is passable but never exceptional. The open ending leaves Sage's short-term fate (and Clea's eternal one) for later books. Ages 14-up. (Oct.) (c) Copyright PWxyz, LLC. All rights reserved."
(c) Copyright PWxyz, LLC. All rights reserved
Additional Information