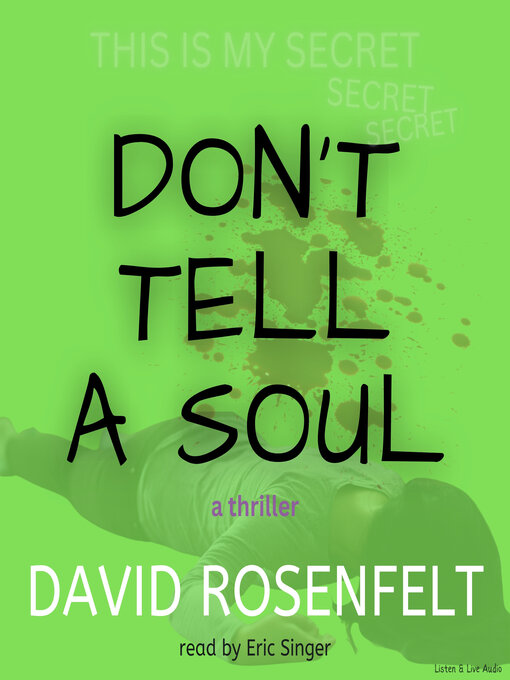 Don't tell a soul
Format:

OverDrive MP3 Audiobook

2008

2008

OverDrive Listen

Availability:

Unavailable

0 of 1 copy
Summary
"Can you keep a secret? A really Big One?" The author of the popular Andy Carpenter series develop the thrills in his first standalone suspense novel. Tim Wallace's wife died in a New Jersey boating accident several months ago and the cops suspect Tim murdered her, though they have no real--case against him. Now it's New Year's Eve and his two best friends and business partners finally convince him to go out for the first time since Maggie's death. At their neighborhood pub just a few minutes before midnight, things in Tim Wallace's life go from bad to worse. "Can you keep a secret? A really big one?" a drunken stranger asks him. Before Tim can say anything or turn away, the man says, "You know Kinnelon, New Jersey? I murdered someone there. A girl ... three months ago. I feel much better now. Now it's your problem." And he walks away. When the man turns out to have been telling the truth, Tim's life is put under the microscope by the cops, and this time they're not giving up. But neither is Tim. Eventually he realizes the only person who can figure out what's really going on is him--even if it kills him.

Published Reviews
Booklist Review:
"*Starred Review* Tim Wallace, the thirtysomething co-owner of a small construction company, is targeted for destruction by an unknown enemy who will go to any length to succeed and for most of this fast-paced thriller, the reasons remain unclear. Suffice to say that they involve the nexus of politics, New Jersey style; a presidential nomination; vast sums of money; and the global war on terror. In addition to shadowy evildoers and expendable dupes, Tim is also the target of Novack, a bulldoglike New Jersey State Police detective whose every cop instinct tells him that Tim murdered his new wife. Don't Tell a Soul is high-voltage entertainment from an author who plots and writes with the verve and wit of Elmore Leonard. Rosenfelt, author of the Andy Carpenter series (Play Dead, 2007), can sketch an engaging character in a couple of tight paragraphs. Novack, whose divorce has done wonders for his relationship with his ex, is a prime example. The dialogue is authentic New Jersey: quirky, funny, and laced with irony. So is the narrative. When a van loaded with high explosives levels part of a small town, even Homeland Security knows there is no Afghanistan exit on the New Jersey Turnpike. Plot twists and red herrings abound, and Rosenfelt ratchets up tension with the precision of a skilled auto mechanic wielding a torque wrench.--Gaughan, Thomas Copyright 2008 Booklist"
From Booklist, Copyright (c) American Library Association. Used with permission.
Publisher's Weekly Review:
"Near the start of this stellar stand-alone from Rosenfelt (Play Dead), ordinary guy Timothy Wallace, still grieving for his wife, Maggie, who was blown to bits in a boating explosion on Long Island Sound a few months earlier, hears a gruesome secret from a fellow bar patron on New Year's Eve. Tim was investigated and cleared as a person of interest in Maggie's death, but now Tim becomes a suspect in a second woman's death. Meanwhile, as a partner in a security construction firm that's prospered in the wake of 9/11, Tim is focused on his company's part in the building of the Federal Center, a huge complex funded by the U.S. government, in Newark, N.J. The president is due to appear at the center's opening festivities. Det. Jonathon Novack believes Tim's a stone-cold killer and is eager to arrest him. Rosenfelt keeps the plot hopping and popping as he reveals a complex frameup of major proportions with profound political ramifications both terrifying and enlightening. Author tour. (July) (c) Copyright PWxyz, LLC. All rights reserved"
(c) Copyright PWxyz, LLC. All rights reserved
Additional Information