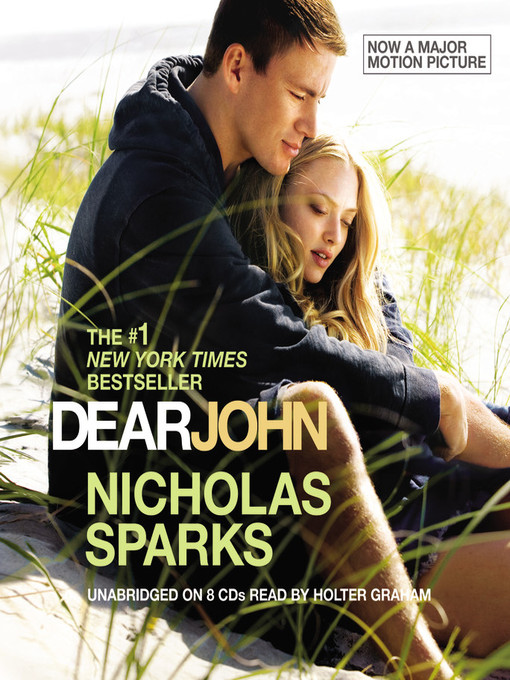 Dear John
Format:

OverDrive MP3 Audiobook

2006

2006

OverDrive Listen

Availability:

Unavailable

0 of 1 copy
1 person on waitlist
Summary
John, a high school dropout, enlists in the Army not knowing what else to do with his life. While in the Army he meets Savannah, they fall in love and she awaits his return from the Army. After 9/11 John feels it's his duty to re-enlist. During their long separation, Savannah falls in love and marries someone else.

Published Reviews
Booklist Review:
"John Tyree is on the fast track to nowhere. At 20 he has no real relationship with his strange and dispassionate father, no attachments to anyone else, and no job, so after breaking up with his girlfriend, he decides to join the army. Military life does alter him, yet he remains disconnected. While home visiting his father in Wilmington, North Carolina, however, he meets Savannah Curtis, a college coed who is everything he is not. A warm, morally straight-ahead woman with a commitment to special education, she captures John's heart and he hers. In the short time they spend together, he opens up to Savannah and true love develops as they plan for a future. Then September 11 changes everything. John feels that it is his duty to renew his commitment to the army, while Savannah wants him home with her. The good soldier now lives in dread of receiving a "Dear John" letter. Sparks, a perennially popular novelist whose name is synonymous with romance and bittersweet endings and whose work translates so readily to movies, lives up to his reputation with his latest novel, a tribute to courageous and self-sacrificing soldiers. --Patty Engelmann Copyright 2006 Booklist"
From Booklist, Copyright (c) American Library Association. Used with permission.
Publisher's Weekly Review:
"Hot on the heels of True Believer and sequel At First Sight, Sparks returns with the story of ne'er-do-well-turned-army-enlistee John Tyree, 23, and well-to-do University of North Carolina special education major Savannah Lynn Curtis. John, who narrates, has been raised by a socially backward single postal-worker dad obsessed with coin collecting (he has Asperger's syndrome). John bypasses college for the overseas infantry; Savannah spends her college summers volunteering. When they meet, he's on leave, and she's working with Habitat for Humanity (he rescues her sinking purse at the beach). John has a history of one-night stands; Savannah's a virgin. He's an on-and-off drinker; she's a teetotaler. Attraction and values conflict the rest of the summer, but the deal does not close. Savannah longs for John to come home; her friend Tim longs to have a relationship with her. On the brink of John and Savannah's finally getting together, 9/11 happens, and John re-ups. Savannah's letters come less and less frequently, and before you know it, he receives the expected "Dear John" letter. Sparks's novel brims with longing. (Oct. 30) (c) Copyright PWxyz, LLC. All rights reserved"
(c) Copyright PWxyz, LLC. All rights reserved
Additional Information