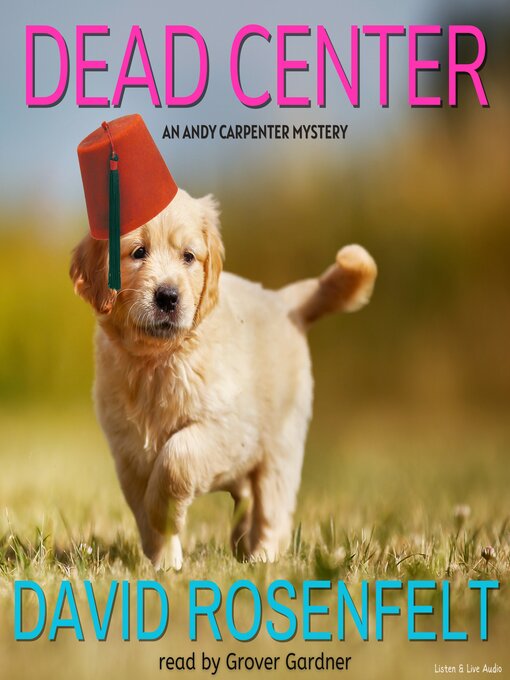 Dead center
Format:

OverDrive MP3 Audiobook

2006

2006

OverDrive Listen

Availability:

Unavailable

0 of 2 copies
2 people on waitlist
Summary
In Dead Center, we find our beloved Andy carpenter reentering the dating scene ? God Bless him. Surprisingly he?s a hot commodity, but that?s not necessarily a good thing. His friends are offering up their two cents on his dating life, but of course they know as little about the dating world as Andy. One thing that rings true, whether the ladies he meets are terrific or not, is that the spectra of his longtime love Laurie hangs over his head. Bitter over her departure, he?s finding it hard to forgive and forget. She?s still the love of his life. Andy?s had no contact with her at all, and he can only assume she is back in Findlay, Wisconsin serving in the number two job on the local police force. Then one day he returns to the office to find Laurie waiting for him. She?s arrested a young man for murder and though the evidence clearly called for his arrest, she believes he?s innocent. He?s the son of her oldest friend and she?s come to Andy to find him representation. Andy follows Laurie back to Wisconsin where he must explore a secretive religious community that seems to hold the truth about what really happened to the deceased.

Published Reviews
Booklist Review:
"New Jersey defense lawyer Andy Carpenter returns for a fifth outing. When his former lover, Laurie, a police detective who has moved home to Wisconsin, calls to tell him she may have arrested an innocent man for murder, Andy packs his bags and sets off for the Midwest to lend a hand. He quickly finds himself going up against a very shady religious group, but it's his feelings for Laurie that cause him the most distress. As usual, Rosenfelt adroitly mixes drama with humor (the latter, mostly the product of Andy's outspoken, I-don't-give-a-damn personality). With this series, it's the storytelling, more than the stories, that keeps things moving. Andy, who became independently wealthy at the beginning of the series, takes only cases that have some emotional or intellectual appeal. Rosenfelt uses this premise to good advantage. Where most legal-thriller authors explore the crime, Rosenfelt spends more time on the context and on the man investigating the crime. Those who like the added complexity of character-driven mysteries will find much to enjoy in this award-winning series. --David Pitt Copyright 2006 Booklist"
From Booklist, Copyright (c) American Library Association. Used with permission.
Publisher's Weekly Review:
"If there aren't any real-life lawyers as entertaining, as witty and as willing to tilt at windmills as Andy Carpenter, Edgar-finalist Rosenfelt's engaging series hero, then there should be. In Andy's fifth outing (after 2005's Sudden Death), the Paterson, N.J., lawyer, whose wealth allows him to work as seldom as he chooses, is recovering from the loss of the love of his life, Laurie Collins, who has moved home to Findlay, Wis., to become the acting chief of police. When Laurie calls Andy for help after arresting 21-year-old Jeremy Davidson for murders that she thinks he didn't commit, Andy can't resist heading off to Findlay with his faithful dog, Tara. There's damning evidence against Jeremy, accused of killing two young women, one of whom he was romantically involved with. Andy is forced to pry into the closed society of Center City, home of the victims and a peculiar religious sect called the Centurions. Written with flair and humor, this is perfect light reading. (May) (c) Copyright PWxyz, LLC. All rights reserved"
(c) Copyright PWxyz, LLC. All rights reserved
Additional Information