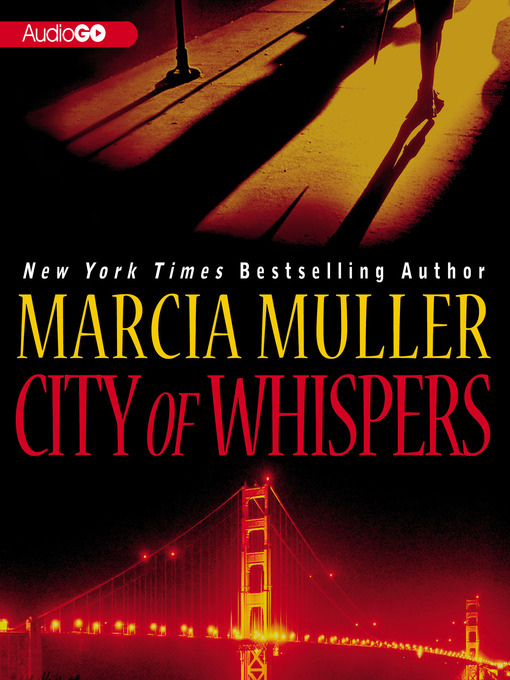 City of whispers
Format:

OverDrive MP3 Audiobook

2011

2011

OverDrive Listen

Availability:

Available from OverDrive

1 of 1 copy
Summary
"Private eye Sharon McCone receives an email asking for help from her emotionally disturbed half-brother, Darcy Blackhawk, but he fails to reply to her response. As Sharon digs deeper, she discovers that Darcy sent his message from an Internet café in San Francisco, a city he's never been to before. Sensing that Darcy is in terrible danger, McCone begins a search for him throughout the city. The investigation leads her to the body of a woman at the Palace of Fine Arts, where a witness told her Darcy was headed. As her search widens, Sharon uncovers a connection to an unsolved murder of a young woman who was heiress to a multi-million dollar banking fortune. Sharon must race to solve both murders and ensure her brother's safety, despite the imminent danger that lurks within her own family." -- from publisher's web site.

Published Reviews
Booklist Review:
"*Starred Review* Muller's sleuth, Sharon McCone, has a new, intensely personal case. Still feeling some residual effects from being shot in the head (Locked In, 2009), Sharon receives an e-mail from her mentally ill half-brother, Darcy Blackhawk, asking for help. When he fails to reply to her response, she gets worried and looks for him. The message came from a computer at an Internet cafe in San Francisco, a city that Darcy has never visited. As Sharon searches for him, she finds the body of a young woman at the Palace of Fine Arts. A witness says that Darcy was heading there. The search widens, and Sharon finds links to the unsolved murder of a banking heiress. She needs to solve both cases to find her brother and ensure his safety, putting herself and her family in danger. The case makes Sharon appreciate her diverse, sometimes dysfunctional family and reinforces her love for her husband, Hy. As Sharon celebrates another birthday, devoted readers will appreciate all the more both the groundbreaking nature of this series (the first to star a female PI in hard-boiled fiction) and the fact that, throughout her long run, Sharon has aged gracefully and matured as a heroine and a woman.--Bibel, Barbara Copyright 2010 Booklist"
From Booklist, Copyright (c) American Library Association. Used with permission.
Publisher's Weekly Review:
"An e-mailed cry for help from Sharon McCone's troubled half-brother, Darcy Blackhawk, sucks McCone into a treacherous vortex of madness, greed, and murder in bestseller Muller's exciting 30th mystery starring the no-nonsense San Francisco PI (after 2010's Coming Back). Though McCone, still recovering from the bullet to the brain that nearly killed her, has pressing problems of her own, she and nephew/operative Mick Savage must hustle to find the psychologically deteriorating Darcy, who's disappeared. Their urgency increases as clues seem to link him with the unsolved strangling of a young heiress two years earlier-and a pair of fresher corpses. Alternating chapters narrated by different characters add to the suspense of the intricate plot, which propels readers through a San Francisco few tourists see-from Colma, the city's necropolis, to the exclusive mansions of Sea Cliff-and to a harrowing, haunting denouement. (Oct.) (c) Copyright PWxyz, LLC. All rights reserved."
(c) Copyright PWxyz, LLC. All rights reserved
Additional Information