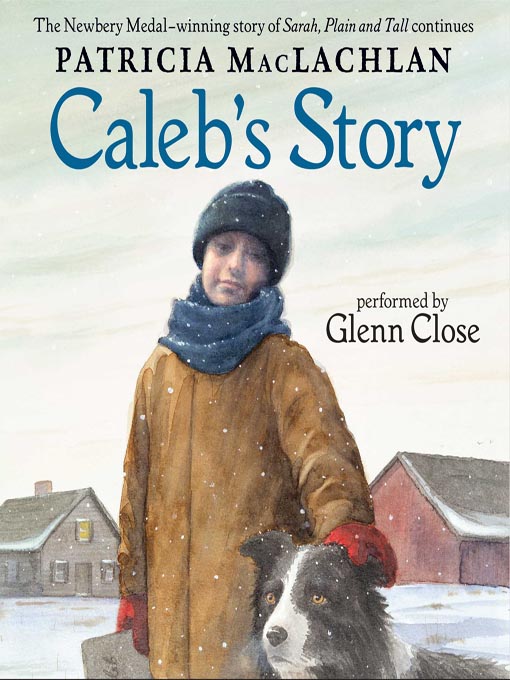 Caleb's story
Format:

OverDrive MP3 Audiobook

2008

2008

OverDrive Listen

Availability:

Available from OverDrive

1 of 1 copy
Summary
Sequel to: Skylark.

Published Reviews
Booklist Review:
"Gr. 3-5. This third installment in the Sarah Plain and Tall (1985) series is a novelization of MacLachlan's 1999 television screenplay, "Winter's End." The time is 1918, and Anna has moved to town to finish high school, leaving Caleb to record the family saga. When a stranger appears at the farm, Sarah invites him inside and learns that he is John Witting, Jacob's father, who abandoned his family many years before. As Caleb and Cassie get to know their grandfather, Sarah tries unsuccessfully to broker reconciliation between the two men. Finally, Caleb discovers the reason behind some of the friction (Grandfather, who is illiterate, wasn't able to write to Jacob after he left), paving the way for forgiveness and new understanding. MacLachlan's spare yet elegant prose conveys the deep feelings of the characters as they work through a difficult time. Four-year-old Cassie, Sarah and Jacob's daughter, brings a certain innocence to the story and helps the drama stay focused on the child's point of view. Series fans will welcome this, but it's also a solid offering that can stand on its own. --Kay Weisman"
From Booklist, Copyright (c) American Library Association. Used with permission.
Publisher's Weekly Review:
"Taking over the reins from his sister Anna, who narrated Sarah, Plain and Tall and Skylark, Caleb describes the event in this heartwarming third installment, in which Jacob is reunited with his father. As the novel opens, readers meet Cassie, the baby whom Sarah carries in Skylark; the country is at war in Europe; and Anna leaves home to work for a doctor in town and gives Caleb the responsibility of recording the family events. While Jacob drives his older daughter to town, Cassie spots a man on the property. Thinking it's one of Cassie's imaginary friends, Caleb ignores her until he sees the man for himself. When Jacob returns, the mystery of the man's identity is revealed, and wounds from the past begin to slowly heal. In an uplifting subplot, Caleb discovers why Jacob's father did not correspond with his son all the years he was away and begins to set things right. The narrative cribs liberally from Anna's entries in Skylark, but fans of the first two books will enjoy learning more about this resourceful and loving family. Ages 8-10. (Oct.) (c) Copyright PWxyz, LLC. All rights reserved"
(c) Copyright PWxyz, LLC. All rights reserved
Additional Information